Honoring a half-century of service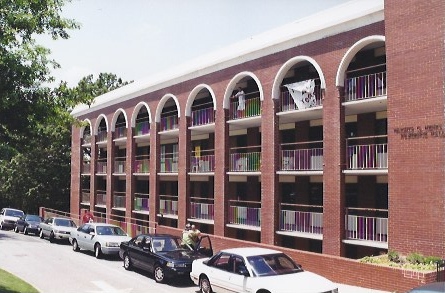 After 51 years of serving as the on-campus home to generations of students, Waight G. Henry Jr. Residence Hall—or simply Henry Hall or New Dorm—is coming down this summer. In remembrance of its five decades, it's time to honor its significance to so many.
Share your story here, or use the hashtag #HenryMemory to share your recollections on social media.
Also, join us for a party to celebrate the legacy of this significant structure. Dig out your favorite shirt or dress from the '70s as we take a trip down memory lane:
When: Thursday, April 20, 2023 | 6-7:30 p.m.
Where: Caswell Plaza, overlooking Henry Hall
Parking is available in the lots off Vernon Street. Cross the Gulley Gateway to make your way to Caswell Plaza, between Lewis Library and Pitts Dining Hall.

Please RSVP by April 13 to Jennifer Beedy Booker '90 at 706-880-8244 or jbooker1@lagrange.edu.
Celebrate your Henry Memory!
Consider sharing a story and making a gift below in honor or in memory of your roommate, resident director or assistant, housemother or friend. Also, take home a memento from Henry:
With a gift of $25 or more, you can request one of the room number plaques. These will be given out on a first-come, first-served basis and mailed via U.S. Postal Service. 
Your Recollections
I lived in Henry from Fall 1996 until May/June 1998. It was a great dorm that everyone wanted to live in during that time, and I was fortunate to have a single room in '97-'98. Sorry to see it go, but most of campus looks nothing like it did in the '90s. C'est la vie.
—Tracy Eley '99
My work-study job was working the intercom in the lobby of the New Dorm. I had to go to the girls' rooms because the intercom didn't work. I was working on the night Dobbs burned. 
—Julianna Nesbit Etheridge '71