Family legacy inspires couple's gift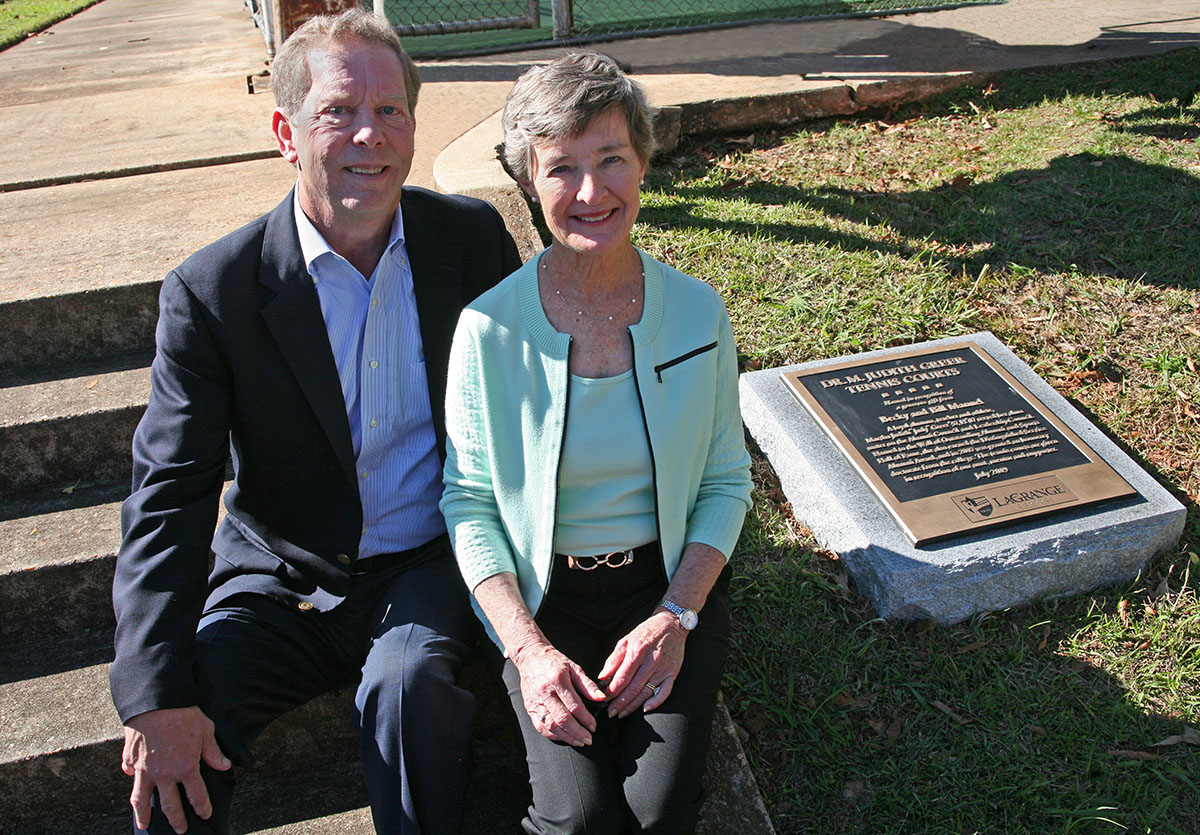 Bill and Becky Manuel grew up in Florida, but it was at LaGrange College where the couple met and began a relationship that has lasted more than four decades.
"Our memories of meeting one another at LaGrange College are so special in our hearts," Becky Manuel says.
Each of them came from a background of giving. Becky's parents were active in the Presbyterian Church and volunteered at their local hospital, while Bill's family promoted giving back. 
"I was really fortunate that I was raised in a nice home with a family that believed in giving back with their gifts and service," Bill Manuel says. 
Becky was drawn to LaGrange because it was a small co-ed college not too far from where she lived. After a tour, she "loved the small campus charm" and enrolled.
"At LaGrange, we all knew everybody," she recalls. "It was a sense of family even if you were in different sororities or fraternities."
Bill, whose aunt Judy Greer had graduated from LaGrange in 1957, decided to attend after meeting with a recruiter for the school in Orlando.
He would later transfer to a college in Florida for a degree to start working in the citrus business. Becky followed him to complete her last year and earn a degree in elementary education—an occupation inspired by her mother, who was also a teacher.
The pair married in 1974 and started a family six years later. Although they lived in Florida, LaGrange was never far from the couple's hearts. Like their aunt Judy Greer, they felt a connection to the college where they met and started their education. 
Bill said his aunt, whom he looks up to, is devoted to the college. After Greer had graduated, she began what would become a 26-year career at Oxford College as a physical education instructor, later specializing in tennis instruction. She credited her experience at LaGrange for her success and continues to be involved in and supportive of the institution.
Now, the Manuels have chosen to leave a bequest to the college that also honors "Aunt Judy" for her inspiration and work, and they decided to make a public declaration of their appreciation. In October 2019, the couple introduced Greer before unveiling their plaque that officially named the Dr. M. Judith Greer Tennis Courts.
"Becky and I thought this would be a very fitting gift, a gesture to show our love for Aunt Judy," Bill said during the unveiling. "It also gives us opportunity to show our love to LaGrange College. Aunt Judy is a great woman, and a great aunt. … This is our way of thanking both LaGrange College and Judy Greer for the important roles they played in our lives for decades and decades and decades."
Consider planning a gift like the Manuels by contacting Andy Geeter, Director of Development, at ageeter@lagrange.edu or 706-880-8060. Your commitment will make you a member of the Quadrangle Society and you can become a member of other Lifetime Giving Societies as well.