Couple's music award pays generosity forward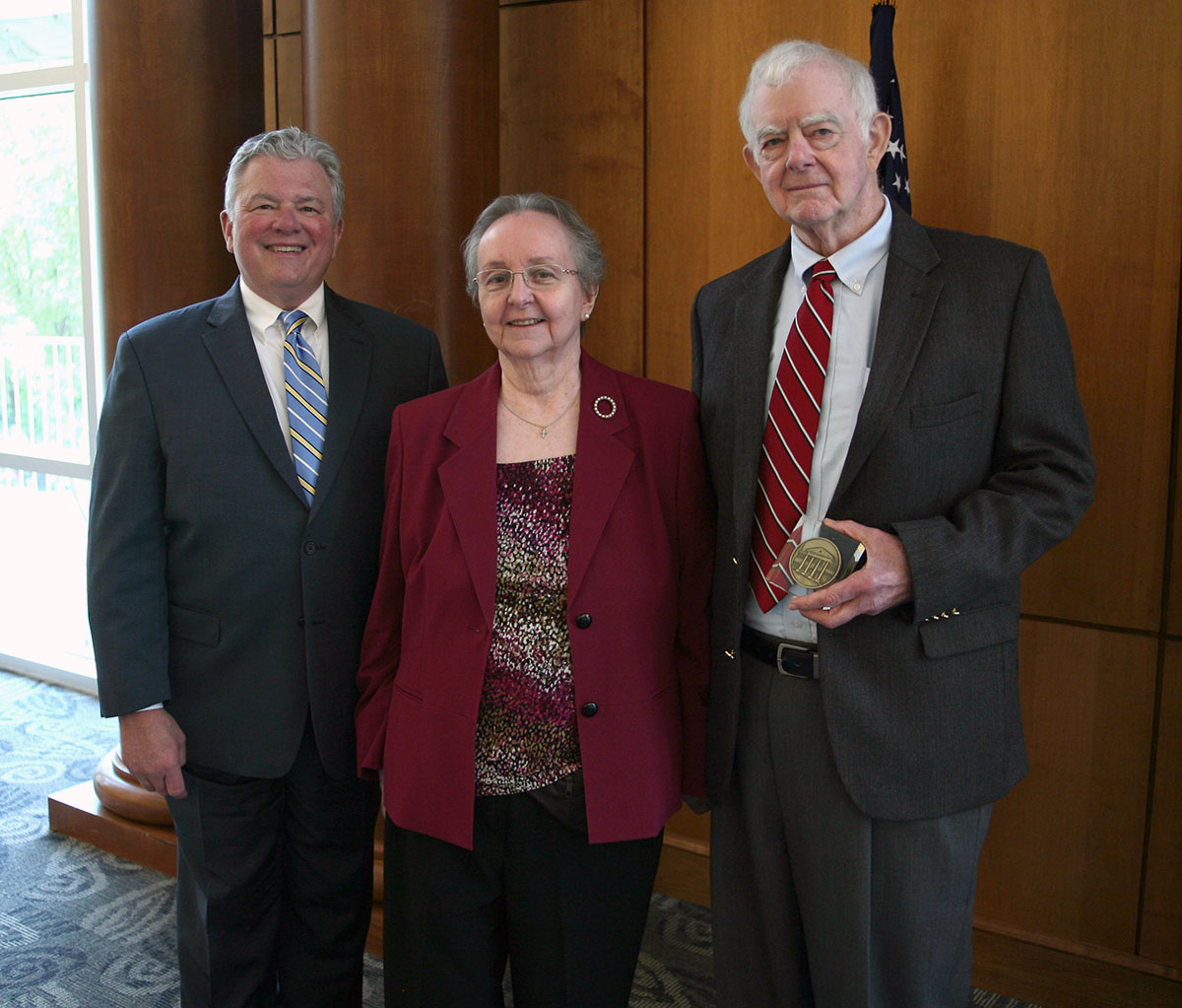 In fall 2018, the first-ever Emily & Bruce Herrington Music Award was given to incoming freshman Carter White from Valley, Alabama—the gift of two alumni with long, happy memories of their time at LaGrange College.
Emily Eady of Oxford, Georgia, and Bruce Herrington from Shawmut, Alabama, met at LaGrange College fall semester 1956. Emily was a second-year music education and voice major   and Bruce was a freshman, with plans to major in psychology and religion. Both were part of the LaGrange College Choralaires, a large mixed-voice ensemble. In December of their first year together on the Hill, while heading to a Christmas party, they crossed paths, said hello for the first time and walked together—that was the beginning. Several weeks later, on their first evening after having returned to campus from Christmas break, Bruce took Emily to the Tasty Coffee Shop on the LaGrange square for a sandwich and milkshake; it was their first date. Their relationship grew from there into a lifelong adventure that has spanned more than 60 years. 
Emily remembers those early years: "We were both in Choralaires. His bass section was right next to my soprano section. … So, I arranged to always stand by him in the top section of the risers and sometimes we would hold hands."
"Those were happy times for us," Bruce remembers, "but we broke up amicably during the summer of 1957 and vowed to remain friends."
"When we came back from summer break, we continued conversations started the previous semester and finally something just clicked," Emily says. "I decided I loved him, so unless he moved to the other side of the world, I was going to make our relationship last forever."  
"We discovered there really was something special about our growing friendship," confirms Bruce. "And so, we began to talk about marriage."
Bruce's time at LaGrange almost ended prematurely during his second year. Strapped for money, he was $500 short on his next semester's tuition. Word got out, and soon Bruce received a call from Business Manager Austin Cook, informing him someone had anonymously donated the $500 for his tuition. He never discovered his mystery benefactor, but the act further ingrained in him the importance of giving back.
Bruce, a Southern Baptist, transferred to Baylor University for his third year of college, while Emily stayed at LaGrange to complete her degree. And finally, in 1960, they were married in Emily's hometown of Oxford. They lived in Waco, Texas, for two years where Emily taught in the public schools and Bruce worked for the University's Counseling and Testing Center and attended school part-time. In the fall of 1962, Bruce returned to LC to complete his degree requirements. After graduation, at the end of the summer term 1963, he reported to Charleston, South Carolina, for active duty in the U.S. Navy.
Bruce soon received a commission and served as a Naval Intelligence Officer during much of the Cold War. He left active naval service as a lieutenant commander but later worked for the Department of the Navy as a civilian program manager.
After completing a master's degree from Boston University, he eventually returned to graduate school and earned a Ph.D. from the University of Virginia. For several years he taught full time at Mercer University and continues to serve as an adjunct professor teaching courses in social history, his most recent being a study of the Vietnam War. Emily, who earned a Master of Public Administration and worked for many years as a federal government contracting officer, always joins him in the classroom, facilitating discussions, debate and dialogue.
For Bruce and Emily, like so many other couples of their generation with young children and growing family responsibilities, giving financially to worthy causes wasn't always feasible. Instead, they volunteered their time and energy to help wherever they could, in their church, civic club and other community causes.
"Students like me who grew up during the 1950s in Southern mill villages often did not have very much, and so we had to work hard to get ahead," Bruce said. "And Emily's father, a college dean and professor, and her family had only a little more, but we both had gained from our parents a philosophy and passion for giving to others without expecting any return. Our interest in giving away from self, what Rotary calls 'service above self,' has always been a fundamental value for us."
Bruce credits this to his upbringing in the small cotton mill town of Shawmut, where he attended the Baptist church regularly. He also cites his membership in Boy Scouts, in which he was expected to do a "good turn daily." Emily came from a family steeped in higher education and a passion for teaching and learning. Her great-grandfather, grandfather, father and many uncles and aunts include a college president, dean, librarian and professors all associated with Emory University or Wesleyan College. Knowing the importance of higher education shaped her philosophy of giving as well.
For years the Herringtons had wanted to give back to LaGrange College in a meaningful way, but felt that any amount they might give to the general endowment would be overshadowed by larger philanthropic gifts.
"We didn't have a history of giving to LaGrange College," Bruce admits. "For years we explored ways to give scholarship money directly to an LC student but managed to do so only on one occasion through our work with a Rotary Club."
Last fall in a conversation with Mark Davis at LaGrange College, they were surprised to find out they could create an annual award or scholarship and fund it each year with income from their personal investments. That led to the Emily and Bruce Herrington Music Award, which will assist a student in the same way Bruce was helped so long ago.
They also decided to put LaGrange College in their estate plan so that funding will be guaranteed after their deaths. It's an act of kindness that harkens back to Bruce's anonymous benefactor.
"I was able to continue my studies at LaGrange College because someone sent Austin Cook $500 and said, 'This is for Bruce Herrington's tuition,'" Bruce said. "We are very excited about our new plans to give back to LaGrange College and with this award firmly established, we look forward to many years of assisting a few LC students to achieve their dreams."
Consider planning a gift like the Herringtons by contacting Andy Geeter, Director of Development, at 
ageeter@lagrange.edu or 706-880-8060. Your commitment will make you a member of the Quadrangle Society and you can become a member of other Lifetime Giving Societies as well.