A humble, unexpected gift helps students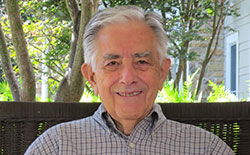 Keith Wells wasn't a LaGrange College alumnus or donor, but when he passed away in 2017, one of his final gifts designated a generous portion of his estate to the college.
"Keith had no specific connection to the college," says friend and estate co-executor Steve Fondren. "He felt LaGrange College offered a well-rounded education."
Wells' wish was that his bequest would be used where most needed at the college. His gift will help pay for resources that will sustain and enhance the quality of education students receive at LaGrange.
Moving to LaGrange from South Dakota in 1961, Wells worked as a textile designer for local manufacturing companies and saved much of the money he earned over his lifetime. Single and without any children, he designated his hard-earned assets to various charitable causes.
Wells' friends described him as "a very private individual" who took time to appreciate the intricacies of the world around him.
 "He loved unique and interesting things in his surroundings," Fondren says. "He had tremendous appreciation for art and was involved in many hobbies and activities that fed his desire to enjoy and create. … His philosophy was simple, private, and he felt deeply about specific causes."
In addition to the college, Wells made gifts to wildlife conservation and Alzheimer's awareness groups. He also became a supporter of the local animal shelter.
"He fell in love with our dog Toby," Fondren says. "We believe this inspired him to support the Animal Shelter. He never owned a pet but connected with this one."
Although his friends are left to speculate on the exact reasons for Wells' decision, they know he appreciated the college's history and architecture of its buildings, which he thought "were interesting in design and appearance." He also enjoyed attending college events like art shows at the Lamar Dodd Art Center and performances at Price Theater.
"We believe he had a desire to advance the opportunity for others to achieve a higher education," Fondren says.
Thanks to his final, humble gift, Wells' legacy will transform the lives of many students on their journey to success.
Consider planning a gift like the Keith Wells' by contacting Andy Geeter, Director of Development, at 
ageeter@lagrange.edu or 706-880-8060. Your commitment will make you a member of the Quadrangle Society and you can become a member of other Lifetime Giving Societies as well.