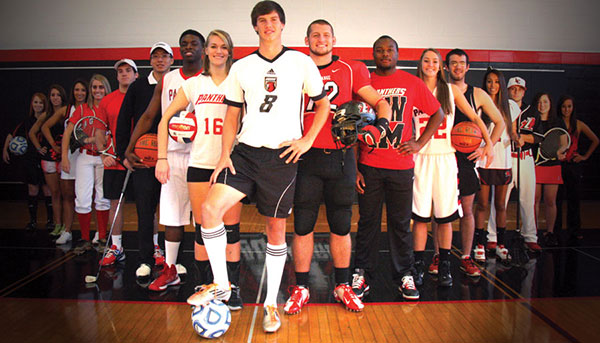 SUPPORT STUDENT-ATHLETES THROUGH THE PANTHER CLUB
Whether you are a proud parent of a LaGrange College student-athlete or a LaGrange College Panther alumnus yourself, you'll be glad to know that you can be a part of a vibrant organization for fans to support their favorite teams.
Known as the Panther Club, the group strives to raise the profile of the athletic program and the institution.  The Panther Club started in 2010, and its members are highly energized by how their collective efforts have been able to tangibly support several of LaGrange College 18 intercollegiate teams, which compete in NCAA Division III.
"Our athletes are fueled by the support of parents, students, alums—anyone who has an interest in helping them compete and succeed," said Vice President for Athletics Jennifer Claybrook. "More than one-third of LaGrange students are part of a Panther team, and as a former student-athlete of LaGrange College, I can't think of a better opportunity to support athletics than through the Panther Club."
All funds the Panther Club raises go directly to support student-athletes. Each year, the club has helped provide championship rings and annually funds travel gear, live streaming of competitions, equipment, uniforms and the LaGrange Panthers athletics website
To learn more about the Panther Club, contact:
Mark Davis
Director of Development
mdavis@lagrange.edu
Office 706-880-8060
Panther Club Contributions
Since its inception in 2010, the Panther Club has raised more than $400,000 for student athletes!
New basketball scoreboards
Basketball shooting machine
Basketball championship rings
Baseball championship rings
Golf championship rings
Remodeled basketball locker rooms
Player benches for the soccer/lacrosse field
Warm-up suits for all student-athletes
Lane lines and flags for the natatorium's indoor swimming pool
Charter bus to an away football game
Softball uniforms
Tennis court resurfacing
Heavy-duty commercial grade rhino max pop-up tent to treat student-athletes
Website: lagrangepanthers.com
Contributed to the online streaming efforts of our athletic teams