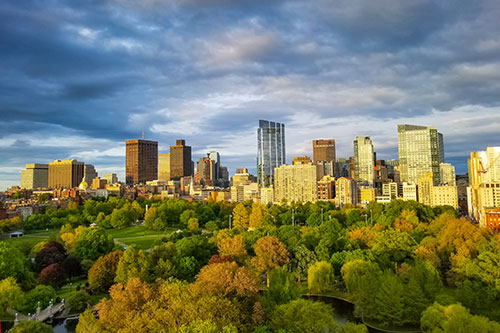 Boston: Back to our Beginnings
GREETINGS 3D FRIENDS,
Mark and I invite you to join us to explore Boston, one of the country's oldest city. Boston has played a central role in U.S. history, from its settlement by the Puritans to its American Revolutionary battles to its storied universities. Rich with history and home to our favorite travel expert Steve Hart of Hart Travel Partners, this fascinating area will allow us to enjoy each other once again with fun and laughter as we get a fresh dose of education and exploration.
Susanna Baxter
President, LaGrange College
JUNE 6-10, 2022
One of the country's oldest city, Boston is steeped in American history. With a pivotal role in the Revolutionary War, it is sometimes called the "cradle of liberty" because it was the source and inspiration for key ideas that shaped America. Experience the vibrant Boston area with a stay at Boston Park Plaza Hotel, a cherished downtown landmark hotel superbly located amid shopping, dining and historic destinations that inspire discovery.
DAY 1 MONDAY, JUNE 6
Depart Atlanta for a morning flight to Boston. Late afternoon private Duck Tour including highlights such as Boston Common, Paul Revere's House, Old North Church, Faneuil Hall, Bunker Hill Monument, USS Constitution. Welcome cocktails and dinner.
DAY 2 TUESDAY, JUNE 7
Morning guided visit of the Fogg Museum in Harvard University. Afterwards enjoy a walk on the campus before free time for lunch. In the afternoon enjoy a guided visit of the Isabella Stuart Gardner Museum. Dinner on your own and there will be options provided.
DAY 3 WEDNESDAY, JUNE 8
Excursion to Lexington and Concord, hubs of the American Revolution. Highlights include battlefields, war monuments and colonial buildings. Included is a literary visit to Sleepy Hollow Cemetery to see the resting places of Louisa May Alcott, Ralph Emerson, Nathaniel Hawthorne and Henry Thoreau. Also included is a visit to the home of Louisa May Alcott, Orchard House. Dinner on your own and there will be options provided.
DAY 4 THURSDAY, JUNE 9
Morning historic and literary walking tour of beautiful Beacon Hill including a visit to the Athenaeum, one of the oldest libraries in the United States. Free afternoon followed by a harbor cruise with cocktails and a farewell dinner.
DAY 5 FRIDAY, JUNE 10
In the morning, feel the spirit of the Red Sox as you visit Fenway Park. There will be free time for lunch in the Fenway area before transferring to the airport for your return flight to Atlanta.
INCLUDED:
Airlines flights
Travel director
All tips
Four nights of accommodations at the Boston Park Plaza Hotel
Four breakfasts, two dinners
All activities, entrances and transport as per the itinerary
24-hour emergency service during program
Transportation between LaGrange and Hartsfield-Jackson International Airport
Hotel transfers
NOT INCLUDED:
Beverages with meals
Cancellation insurance policy
Checked baggage
RATE:
Double $2,750
Single $3,250
TOUR PARTICIPANT DEPOSITS:
Registration and payments handled by the Office of Alumni and Community Relations.
Tuesday, January 25, 2022, at 9 a.m. – Registration (limited space) only by emailing 3DJourneys@lagrange.edu
First deposit of $500 per person due upon reservation.
(nonrefundable)
Thursday, February 24, 2022 – Balance due.
For all new enrollments after January 27, 2022, full payment is required plus any additional airline fees.
PLEASE NOTE:
To add pre- or post-nights or adjust airline arrangements to this tour, notify the office of Alumni and Community Relations by 9 a.m. on Tuesday, February 15, 2022. For your comfort, we recommend bringing walking shoes. This tour requires average physical activity. You should be in good health, able to climb stairs and walk reasonable distances, possibly over uneven ground and cobblestone streets. CDC and Boston guidelines followed during travel.
HART TRAVEL PARTNER STANDARD CANCELLATION PROCEDURE:
Cancellations must be submitted in writing, including by email. The date of the cancellation is the date on which Hart Travel Partner receives the notice. Payments cannot be transferred to another account.
HART TRAVEL PARTNER CANCELLATION FEES:
From January 27, 2022: Full refund, less a $500 cancellation fee.
From March 1, 2022: Full refund, less a $750 cancellation fee. From April 1, 2022: Full refund, less a $1,000 cancellation fee. From May 1, 2022: No refund.