Leaders Inspired for Tomorrow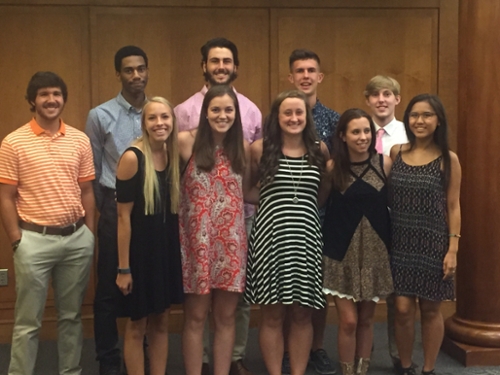 LaGrange's most prestigious non-academic honor for entering students, LIFT provides a leadership-development program for 10 incoming first-year undergraduates. If you have a strong leadership/service-oriented background, consider taking part in this fun and challenging experience.
LIFT participants:
Are selected over the summer prior to arriving on campus by an application process overseen by a committee of college faculty and staff. 
Begin the program with a four-day backpacking and rock-climbing leadership development experience led by North Carolina Outward Bound in Brevard, North Carolina. 
Take part in monthly leadership sessions that feature experiential learning activities and sessions with established leaders.
Participate in a variety of service projects both on and off campus to promote active engagement within the college community.
In the end, LIFT is much more than just an impressive line on a résumé. It offers a complete experience designed to promote intensive personal learning and to equip participants with the tools to lead within the college and community for years to come.
Interested students must apply before Wednesday, June 19, 2019.
Outward Bound experience
The intensity of the program's leadership development curriculum begins immediately. Its first stage takes participants to North Carolina Outward Bound's Cedar Rock Base Camp, located near Brevard, North Carolina. This trip includes an intensive four-day backpacking and rock-climbing experience through the Mt. Pisgah National Forest.
In preparation for the trip, participants should be able to hike a total of two to three miles in a day at a steady pace as well as being comfortable with being outdoors or extended periods of time. All costs associated with the trip are covered by a generous donation provided by LaGrange College Trustee Ted Beason.
Outward Bound is the oldest, most respected outdoor educator in the world, and North Carolina Outward Bound, the oldest independent Outward Bound school in the country, knows how to open your eyes to your own potential.