Program Highlights
 2019 – 2020
Number of Graduates: 9
Number of Students who graduated in 2 years (6)
Number of Students who graduated in 3 years (2)
Number of Students who graduated in more than 3 years (1)
89% of students passed the Counselor Preparation Comprehensive Examination (CPCE)              
78% of Graduates obtained employment within 6 months of graduation
100% of graduates reported an Above Average or Average program experience
100% of graduates reported an Above Average or Average level of support from Faculty
100% of graduates reported they would recommend the CMHC program to an aspiring counselor
Careers/Graduate Outcomes
At LaGrange, the Clinical Mental Health Counseling program prepares students for success both inside and outside of the classroom. Graduates have gone on to secure counseling positions in a variety of different settings and students have earned significant honors.
Vivian Crim '20
Vivian currently works as a counselor/social service provider for the Pathways Center. Vivian facilitates groups, family sessions and individual sessions at the Adult and C&A units. In 2021, Vivian was promoted as the lead over the PSR/Peer Adult day program in the Carrollton outpatient clinic. Vivian says that the CMHC program equipped her with valuable clinical experiences, lessons, and tools that are necessary to be an effective and efficient counselor. Vivian also says the support from her professors was priceless.
Sabrina Askew-Hayes '20
Sabrina works as a Community Based Therapist with Grace Harbour Behavioral Health. Sabrina was recently accepted into Troy University's Graduate Certificate in Addictions Counseling program. Sabrina says that the LaGrange College CMHC Program prepared her for her current position and was paramount in her development as a counselor.
Torionna Colton '20
Torionna is currently employed at Willowbrooke at Tanner as a Primary Therapist on the Child & Adolescence Partial Hospitalization Team. As the primary therapist for the "Middles", Torionna leads groups of an average of 8 middle school aged kids. Torionna also facilitates family therapy sessions with the families of the children on her case load. Torionna says that the Lagrange College CMHC Program provided the necessary foundation and tools to become an effective therapist. Torionna also says that the coursework, supervision and encouragement received from each of the professors were all fundamental in preparing her for my current role.
Diane Moore '20
Diane Moore currently works as a masters level clinician providing individual and group counseling services for residents of Troup County. In her current position, Diane completes crisis assessments and assists clients who have experiences of domestic violence and substance abuse. Diane says that Lagrange College CMHC Program helped to prepare her for working with a variety of clients and to effectively assess and diagnose.
Margie Green '19
Margie  works as a PLPC in New Orleans, LA in private practice with Durant Counseling.  Margie counsels clients with a wide range of emotional and relationship difficulties, including grief, loss, trauma, anxiety, depression, and life transitions. Margie is also trained in Eye Movement Desensitization and Reprocessing (commonly referred to as EMDR). Along with private practice, Margie is active in giving back to her community as a medical advocate for victims of assault with the New Orleans Family Justice Center.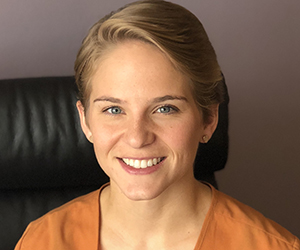 May Mclnnis '17
May Mclnnis is currently employed as a Licensed Professional Counselor Associate at a private practice in Texas. May says, "Our lives and our issues must be viewed within the contexts of our inner and outer environments. My goal is to help my clients live a life worth living, whatever that means to the individual."