Counseling begins with listening: Are you a good listener?
If the answer is yes, then consider LaGrange College's Clinical Mental Health Counseling Program. Our program will equip you with the tools you need to become a Licensed Professional Counselor and work in a variety of clinical settings, such as mental health agencies, residential treatment programs and private practices. You will find that our program is student-focused and seeks to help you achieve your individual goals and aspirations.
Program overview
The LaGrange program consists of 60 credit hours that are based on the standards of the Council for the Accreditation of Counseling and Related Educational Programs. Students typically complete it in 2 calendar years, taking courses during the fall, interim-term, spring and summer semesters. However, our program offers you the option to go at a slower pace due to obligations and responsibilities outside of school. As a way of assisting students who work during the daytime, our classes meet exclusively in the evenings. Some of the courses offered in our program are in hybrid format where work is completed both in and outside of the classroom.
At the beginning of the second year of the program, students begin their clinical work by obtaining 100 client contact hours at a counseling practicum site.  After students have completed their practicum, they enroll in three consecutive semesters of internship where they accrue 600 client contact hours. The college has a variety of partnerships with clinical practicum and internship sites both in LaGrange and neighboring cities. Students leave their clinical experiences with the clinical skills needed to flourish in their future careers in the counseling field.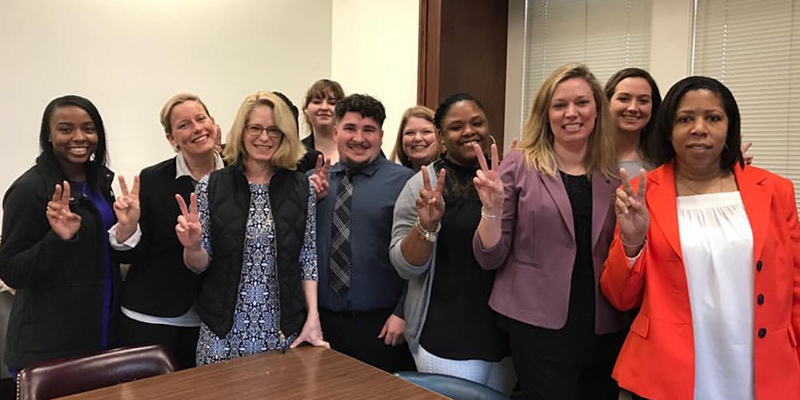 A hallmark of the LaGrange program is advocacy. We believe that it is essential for our students to learn how to advocate effectively for their clients. As a result, students participate in both advocacy projects and community service that focuses on identifying marginalized and underserved groups, discovering historic and current factors that help maintain barriers for certain populations, and implementing resources and tools to best assist individuals who are in need. Along with advocacy, the program incorporates multiculturalism into each of our courses. Our program has a great respect for diversity and encourages minorities to apply.
Would you like to hear more?

We would enjoy the opportunity to speak with you via phone or in person. Contact one of the professors below to learn more about the LaGrange master's in Clinical Mental Health Counseling: 
Dr. Kelly Veal, Program Coordinator, Assistant Professor, kveal1@lagrange.edu 706-880-8272
Dr. Justin Muller, Clinical Coordinator, Assistant Professor, jmuller1@lagrange.edu 706-880-8074
Dr. Dixie Powers, Assistant Professor, dpowers@lagrange.edu 706-880-8159