Become a force for change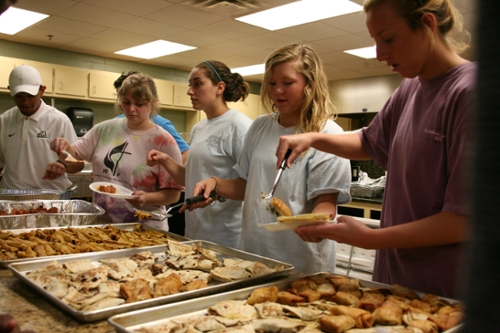 The Wilkinson Family Servant Scholars Program prepares the next generation of servant-leaders by linking the college's brightest students with community leaders and mentors so they can study local needs—and decide how to best meet them. The group lives in the newly renovated Broad Street Apartments, located midway between campus and the downtown square, the perfect home to link campus and community with scholarly service.

Each year, 12 juniors are chosen to start their two-year journey in the groundbreaking program. While living as a community, each student is engaged in active learning and service through individual internships at local agencies such as Habitat for Humanity, Circles of Troup County, Enoch Callaway Cancer Clinic, LaGrange-Troup County Humane Society, Boys and Girls Club of West Georgia, Chattahoochee Riverkeeper and Harmony House.

The Servant Scholars' senior year involves a collaborative capstone project addressing a need the group identifies from their junior-year service. The capstone project culminates in a Servant Scholars Colloquium presented to the campus and community near the end of the program's second year.

Our Daily Bread, weekly student-run soup kitchen launched by the Scholars, has operated continuously since February 2013.
Servant Scholar graduates have moved on to impressive master's and doctoral programs that will launch careers of influence—spreading the impact and philosophy of servant-leadership across the nation and world.

FOR MORE INFORMATION CONTACT
Dr. Jack Slay
Director of Servant Scholars Program
jlsay@lagrange.edu
Phone: 706-880-8996