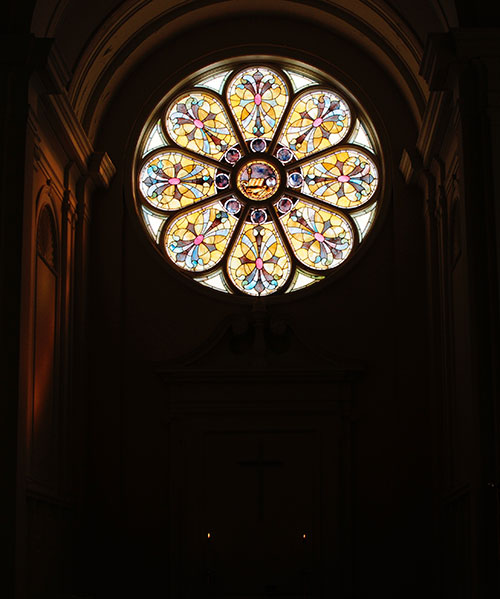 The LaGrange College relationship doesn't end when a student walks across the graduation stage and becomes an alum of our beloved institution. We believe that the LaGrange College connection should be lifelong, and we pause during every annual homecoming weekend to remember and celebrate those alums who have passed the last year.
Because of COVID-19 we were not able to gather in the fall of 2020. So, we will remember all who have passed since October 2019 at this year's gathering. We will read the names of each alum, ring the Chapel bell in their honor and light a memorial candle in their memory. We hope you can join us for this sacred time of faith, hope and remembrance.
Sunday, October 31st, 11 a.m., LaGrange College Auditorium
For more information, alumni@lagrange.edu
Dr. Otis J. Abernathy H'81
Ms. Marie P. Adams '66
Mrs. Jimmie B. Aldredge '62
Ms. Mary Anna Allison-Houston '53
Mrs. Mary Elizabeth Middlebrook Anderson '45
Mrs. Sarah Maxwell Arnall '54
Mrs. Rita Brown Baggerley '80
The Honorable Judge A. Quillian Baldwin Jr., former Board of Trustee
Mr. Christopher Bruce Batten '74
Mr. Jerrod Beasley '67
Ms. Betty Jean Blackburn '52
Mrs. Susan Cecile Ellis Booth '83
Mrs. Maxine Richardson Bradley '59
Ms. Dolores M. Bradley '83
Mr. Alfred W. Brown '64
Mrs. Mary Weldon Brown '54
Mr. Calvin L. Buttram '76
Mrs. Emily Mitchell Calhoun '61
Mrs. Imogene Tucker Camp '40
Mrs. Joy N. Carver '58
Mrs. Helen Katherine Walker Childs '44
Mrs. Cynthia McLeroy Cofield '93
Mrs. Evelyn Hyatt Coleman '39
Mrs. Linda Morrow Daniel '84
Mrs. Jean Bell Delffs '42
Mrs. Charlotte Michael Deverall '41
Mrs. Diane Fowler Duke '59
Dr. Julian Duttera, former Leadership Council
Mr. Stephen Curtis Ellis '75
Ms. Vicky Humphries Ellis '99
Ms. Carolyn Doby Garrett '55
Ms. Vicki L. Gleeson '68
Mrs. Jane Ellen Yarbrough Grizzle '65
Ms. Marie Gunn, former staff
Dr. Carleton Sanborn Guptill, former faculty
Mrs. Edna Waldrop Hamilton '41
Mrs. Lynn Waller Harp '61
Mr. Lucius Hannon Harwell '69
Mrs. Johnnie Gauntt Heath '80
Mrs. Catherine Werner Hicks '39
Ms. Millicent Rosemary Hilderbrand '83
Mrs. Alma Laverne Smith Hill '77, M'78
Mrs. Eleanor Haynes Holmes '54
Reverend Dr. John Errell Horton Jr. '59, H'88
Ms. Jacquelyn Devaughn Parker Huckstep, former staff
Mrs. Merle Jean Carlisle Jackson '48
Mrs. Claire Matthews James '56
Mrs. Claire Cosper Johnson '49
Mrs. Roberta Anderson Jolly '80, M'81
Mrs. Virginia Langford Powers Koester '57
Mrs. Alice Burson Koone '83, M'88
Mr. Christopher Lee Landrum '96
Dr. Osmos Lanier Jr. '57
Mr. James Dan Lee '62
The Honorable John Lewis H'06
Mr. J. Richard Lowrey '70
Ms. Helen Clark Loyd '48
Mrs. Betty Price Majors M'75
Dr. Sammy O'Neal McCord '64
Mrs. Mary Sherwood McCorkle '53
Mrs. Vija Palde Moore '56
Mrs. Brenda Robinson Neese '80, M'84
Mr. Robert Wesley Newell '69
Mrs. Alice Paxton Norris '52
Mrs. Martha Cleaveland Nix '50
Mr. Daryl H. Overcash '77
Mr. Charles Ray Owen '64
Mr. Robert Brewell Parker Jr. '64
Mrs. Robbie L. Parker '78, M'87
Dr. June Wilder Plachy '51
Ms. Marcia Millwood Player '66, M'95
Mrs. Louise Donnan Priester '42
Dr. Maynard Loyd Reid Jr., former faculty
Mrs. Estelle Greenway Richardson '42
Mr. Rickey Kyle Riley '86
Mr. Thomas Elvin Robinson Jr. '66
Ms. Mildred Ellen Sharkey '61
Mrs. Mildred Hogg Shaver '39
Dr. Herchel H. Sheets H'88
Dr. Brooks Shelhorse Jr. '67
Dr. James Harold Shepherd Jr. H'13
Mrs. Rachel Sorrow Sheppard '41
Mrs. Sara Horn Singley '81
Mrs. Patricia Pattillo Slade '76, M'79
Mrs. Nelda Faye Bruce Sledge '91
Mrs. Louise Babb Smith '50
Mrs. Nancy Manning Stephens '54
Mrs. Susan Montgomery Stover '71
Mr. John Meadows Taylor, former Leadership Council
Mrs. Juanita Creed Thomas '96
Mrs. Alane Abernathy Thompson '70, M'86
Mr. Roger E. Underwood '56
Dr. Clifford A. Walker '72
Ms. LaGail Ward '93
Dr. Jacquelynn Northcutt Wattenbarger '55
Mr. John N. Wilkinson III '60
Mrs. Ouida Harmon Williams '64
Reverend Charles Scott Wilson-Parsons '83
Mrs. Janice McClellan Wearden M'11
Mrs. Dorothy Barr Woods '43
Mr. Willie J. Woodard '83
Ms. Dorothy L. Wright '76
Mrs. Patricia Shellnut Yarbrough '54
Dr. Scott L. Young '75
Mrs. Kimberly Bennett Young '95
*this list includes those that have passed from September 30, 2019, to September 30, 2020.
Mr. Richard Douglas Ballard '69
Mr. David Shane Barber '89
Mrs. Ollie G. Bauerly '62
Mrs. Loretta F. Dunn Beall, former staff
Mrs. Carolyn Monfort Becker '59
Mr. Grey Kennerly Bell '04
Ms. Lisa Murphy Billingsley '92
Mrs. Helen Cliburn Blumhagen '44
Mr. Kelly D. Bowen '09
Ms. Betty Sue Brantley '63
Ms. Glenda McCary Bridges '70
Mrs. Kristie Herring Brooking '95
Mrs. Cindy King Brown, former faculty
Mr. Melvin Charles Brown '04
Mr. Edward Austin Brown Jr. '80
Mrs. Blanche McKinney Brumbeloe '51
Mr. Robertt C. Buchanan, Jr. '76
Mr. Joe Melvyn Byars '71
Mrs. Christine Shouse Calhoun '53
Mr. Bert Verdier Carter, Jr. '79, M'81
Mrs. Gertrude Summers Caruso '55
Mr. Ronald Steven Cavender '84
Mr. Hayden McTyiere Copeland '83
Mr. Billy Clyde Cosper, Jr. '72
Mrs. Jeanne Marie Blackburn Cox '70
Ms. Anne Doris Craft '84
Mr. Jack Moore Crook '85
Mr. Joseph Harrison Cunningham, IV '75
Mr. Duke "Buddy" Darrah '73
Mr. Christopher John Dixon '81
Mr. Terry Dunn - former staff
Mr. Tony Hobson Earl, III '81
Mrs. Janette Hood Edwards '46
Mrs. Lois Jackson Fleming '54
Mr. Glenn Florence, Jr. '63
Mr. James Jay Galis '72
Mrs. Jane Weathers Gore '41
Mrs. Karon Riddle Grant '89
Mr. Lawrence Eugene Grice '79
Dr. Frank P. Grisham H'98
Mr. John Henry Grizzell '83
Mrs. Kathryn Piper Head '54
Dr. John Thomas Helton, former staff
Mrs. Emily Eady Herrington '59
Mr. Luke R. Hill '74
Mr. Cader W. Holloway '61
Mrs. Janis Marshall Huckeba '54
Mrs. Doris Keen Hughes '81
Mr. David L. Hunt '90
Mr. E. Wayne Hunter, former Board of Trustee
Mrs. Ann Rainey Irvin '46
Mrs. Phronia Twiggs Jenkins '39
Mrs. Louise Childs Jeter '89
Mr. Fred L. Jones '98, HA'17
Rev. Joseph Wesley Jones, Jr. '74
Dr. Terry W. Kay '59, H'99
Mr. Robert L. Kenney '58
Mrs. Eleanor Irene King '75
Mr. Virgil Braxton Kirby '74
Mr. Joseph L. Lanier Jr., previous Trustee
Mr. Ernest Lamar Lee '67
Mrs. Maryton Bowers Lee '47
Mrs. Leila Josephine Johnson Loyd '57
Mr. George Thomas Mahaffey, former Leadership Council
Rev. Michael Alva McAfee, Sr. '66
Rev. Charles Frank McCook Ph.D. HA '16
Ms. Gwendolyn Jones McIntosh M'06
Mrs. Carol Fentress McRee '48
Mrs. Ena Smith Moore '48
Rev. Dr. Carolyn W. Morris H'99
Mrs. Michelle Sims Morris '94
Mrs. Sarah Boddie Neal '75
Mr. John Seay Newman '10
Mrs. Betty Lou Wright Noland '47
Rev. Jimmy J. Norred '62
Mr. Larry Eugene Parker '63
Mrs. Thomas Lyman Parker Jr. '65
Mrs. Miriam Bledsoe Patterson '59
Ms. Barbara Suzanne Pound '75
Mr. Maurice Lamonte Pritchett '93
Mr. Thomas Daniel Ritter '69
Mrs. Margie G. Robinson '76
Mr. Randall Stuart Roy '71
Mrs. Deborah Doster Russell '94
Mr. Donald E. Russell, former Leadership Council
Mr. Mitchell Lee Seagraves '72
Mr. William Glenn Sexton, Jr. '82
Ms. Elizabeth S. Sims '64
Mr. Randall G. Smith '79
Rev. Rance P. Sprayberry '59
Mrs. Patricia Anne Taylor '64
Ms. Karen G. Thrower - former staff
Mrs. Polly Jordan Trexler '41
Dr. James Truman Trice Jr. '61
Ms. Ardell Shemeka Whitfield '05
Ms. Melanie Marie Wilks '82
Mr. Carter Layne Williams '74
Mrs. Victoria Lasater Womble '73
Mr. Mark L. Woodard '81
Rev. H. Travis Woodward '54
Ms. Carolyn Person Woodruff '76
*this list will include those that have passed from September 30, 2020, to September 30, 2021.