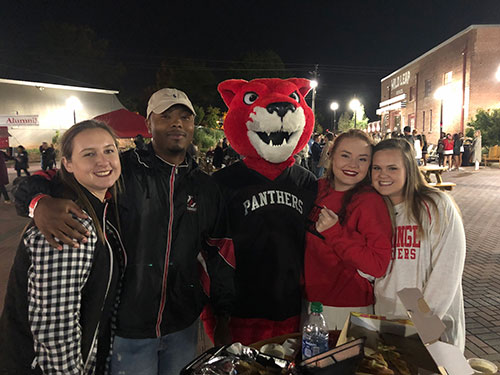 Homecoming 2021
The Red and Black are back!
Whether it has been five years or 60 since you were on campus, we hope you will break out your red and black to join us for a memorable weekend of reminiscing and celebrating all that we love about LaGrange College. Share old memories and make new ones during Homecoming 2021, October 29-31.
If you graduated in a year that ends in 0s, 1s, 5s, or 6s, it's your reunion year! Interested in serving on your reunion committee? Let us know! alumni@lagrange.edu
Check this webpage often for updates for the latest news on this year's planned events. We are currently scheduling activities for this fun weekend so the information here is subject to change. We hope to see you soon.
Please note: This is a tentative schedule for Homecoming 2021. At this time, LaGrange College plans to host an in-person Homecoming Weekend celebration during the weekend of October 29-31. As the campus continues to navigate Covid-19, Homecoming celebration plans will be made with the safety of our students and campus community in mind and will be adjusted accordingly. Please check back for more updates in the coming months.
2021 Alumni Awards Luncheon
12:30 p.m., Dickson, Assembly Room, Turner Hall, hosted by the Board of Trustees
The event will feature the presentation of the 2021 Honorary Alumnus Awards to Charlene Baxter and Linda Cole.  2021 Outstanding Young Alumni Award to Eric Keels Ph.D. '10 and the 2021 Shackelford Alumni Achievement Awards to Michael Thorpe Fay '86 and Cheryl Blasingame Garing '98. Inducted posthumously into the Sports Hall of Fame will be David Fowler '85.
Contact alumni@lagrange.edu 
Alumni Golf Outing
Highland Country Club, Tee times are 10:45 a.m. to 12:10 p.m. 
Register online for this outing benefiting the Panther Club in honor of Tom Duckett '68 or contact the Alumni Office at alumni@lagrange.edu, 706.880.8244. The event is $100 per player and includes range balls, cart green fees, and a gift bag.
The 37th Tom Duckett Tournament has been rescheduled for Thursday, March 24th, 2022. Details will be announced in late fall.


Homecoming Dedication Event: Glover Garden and Hodges' Flagpole
2:00 p.m., Glover Garden formerly Smith Hall Patio
The Glover Garden, named in recognition of a generous gift from Shearon '72 and Taylor Glover, will be dedicated. Additionally, Bill '72, H'14 and Sheila Hodges' generous gifts will be recognized by the dedication of the Flagpole in honor of the Kappa Sigma fraternity founded as Gamma Phi Alpha.
Presidential 50th Reunion Celebration for Classes of 1970-1971
5:30 - 7 p.m., Lamar Dodd Art Center, hosted by President Susanna Baxter
Join classmates for a dinner reception and group photo. Then, the celebration will continue at the Overlook Plaza at Wild Leap Brew Co. located in downtown LaGrange.
Tales from the Hill - Special Homecoming Production
5 p.m. Price Theatre
LC Faculty, Staff, and Students are FREE. Tickets are $10.
Written by the LaGrange College's own Professor of English, Jack Slay, Jr.  Steeped in the college's own ghost stories and spooky legends. Just in time for Halloween. Tickets go on sale Monday, October 18
priceboxoffice@lagrange.edu
 Following Broadway and Actors' Equity Standards: All members of our audience this season must show proof of vaccination upon entry and wear masks in Price Theatre.
*Mature audiences only


Flashback Friday Party @ Overlook Plaza
308 Main Street, two blocks south of LaFayette Square, located beside Wild Leap Brew Co.
Overlook Plaza is an outdoor event space featuring a spacious brick-covered plaza and covered outdoor stage. 
6:30 - 11 p.m. Live Music * Food Trucks * Corn Hole * Yard Games 
Join your friends on the plaza. Ideal for reuniting with classmates.
Family-friendly. No tickets are needed. Admission is free. The evening is for all ages. 
Limited picnic tables, but you are welcome to bring tailgate chairs to the event.
Food trucks will be set up on the Overlook Plaza serving specialty menus. Beverages available on the plaza and the taproom will be open.
*No outside food or beverage permitted.

Pouncer will make an appearance between 8-8:30 p.m. for photos.

Music begins at 8 p.m. with The Reasons Why, songs of the 60s, 70s, 80s, (classic rock and Motown). Band members are Ronnie Everitt '94, saxophone & lights; Greg Gregory '73, M'76, guitar and vocals; Sam Thrower '75, guitar and vocals; Chris Barnes, guitar and vocals; John Stewart, keyboards; Ken Posey, bass; Bobby Chesnut, drums; and Jordan Barnes, current LC student and sound engineer.

Must present valid I.D at the gate for a 21+ wristband.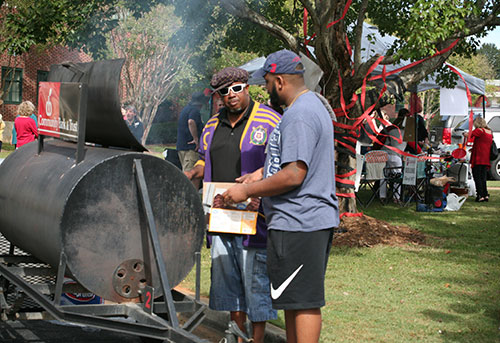 Men's Alumni Basketball Game
Mariotti Gym, Meet and Greet, 9:30 a.m.
Join Head Coach Kendal Wallace M'17 for some fun on or off the court. Tip-Off is at 10 a.m.
Red and Black Reunion Row Registration Tent
White Registration tent, Callaway Auditorium parking area
10 a.m. until the end of halftime of the football game Register, sign the Homecoming 2021 book, and pick up your nametags. (Show your nametag for a free alumni gift; supplies are limited.) Classes whose years end in 0s, 1s, 5s, and 6s, along with other college friends, will mingle and reminisce under a large white tent. 
"Chiaro Ombra" Alumnae Art Exhibition 
11 a.m. until 1:00 p.m., Lamar Dodd Art Center
The exhibition of photograms, Chiaro Ombra will feature alumnae Ann Hutchinson Beason HA'14 and Merri Herbert Lawrence '77. Chiaro Ombra represents a year-long photography collaboration of two LaGrange College alumni. Natural materials collected in gardens, woodlands, meadows, and sea coasts have been used in the darkroom to create images of light and shadow. 
For additional information contact Lanora Yates, 706.880.8211 or lyates@lagrange.edu
Classes of 1945, 1946, 1950, 1951, 1955, 1956, 1960, 1961: An afternoon of reminiscing
Noon, West Side, Lobby of Beason Recital Hall, 301 Panther Way
Lunch will include an entree, tea, and dessert $15.00 per person
Football: Panthers vs. Greensboro
1 p.m., Callaway Stadium (Gates open one hour before game time) Halftime will feature the announcement of the 2021 Homecoming King and Queen and SGA Spirit Contest winners. For tickets and game-day information. Visit https://www.lagrangepanthers.com/sports/fball/Game_Day.
Tales from the Hill - Special Homecoming Production
5 p.m., Price Theatre  
Written by LaGrange College's own Professor of English, Jack Slay, Jr. Steeped in the college's own ghost stories and spooky legends. Just in time for Halloween! LC Faculty, Staff, and Students-FREE. Tickets $10 Tickets on sale Monday, October 18th
priceboxoffice@lagrange.edu
 Following Broadway and Actors' Equity Standards: All members of our audience this season must show proof of vaccination upon entry and wear masks in Price Theater.
*Mature audiences only
Sororities Celebrate 50 Years on the Hill
Alpha Kappa Theta - Kappa Delta,
Alpha Phi Beta - Alpha Omicron Pi
Kappa Phi Delta - Phi Mu

6-10 p.m., Highland Country Club
Celebrate 50 years of sorority life at LaGrange College this Homecoming! For more details and to purchase tickets, please visit https://buytickets.at/lcsororitiesalumnaegroup/558176 Apparel is ready for purchase at https://stores.cedarstream.com/lagrange/shop/home
Any questions please contact lagrangecollegesororities@gmail.com 
1965-1973 Classes Barbecue Dinner
Dinner 6:30 p.m., Courtyard Marriott's Callaway Room, 25 W. Lafayette Square, Downtown LaGrange
Enjoy dinner from Country's Barbecue followed by music and fellowship around the adjoining outside fire pit for a cost of $20 per person. Reservations are necessary due to limited space.
Reserve your space online
alumni/homecoming/bbq-dinner
 or mail a check to LaGrange College Attn: Alumni and Community Relations, 601 Broad Street, LaGrange, Georgia 30240.
Alumni and LaGrange College Community Memorial Service
11 a.m., Callaway Auditorium, LaGrange College Campus, 801 Dallas Street
This annual service celebrates the lives of alumni and members of the LaGrange College community who have passed away since Homecoming 2019. For more information, contact alumni@lagrange.edu or 706.880.8244. Following the service, move from the Callaway Auditorium to Pitts Dining Hall to enjoy the Sunday all-you-can-eat buffet brunch. The cost is $8.00 per person, payable at the door.
For a listing of remembrances, click the green memorial service tab on the left.