Explore what matters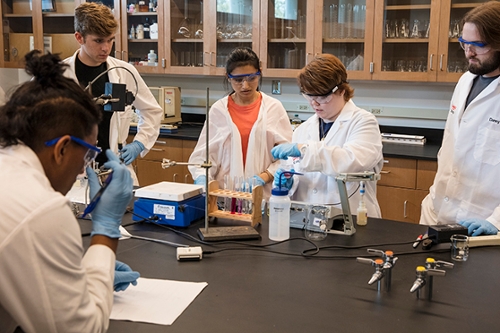 You're already a chemist, using your knowledge of the substances around you to navigate the day. Dig deeper into these building blocks of matter by building your knowledge of chemistry.
At LaGrange, a hands-on chemistry education can propel you toward a range of professions.
If you'd like a broad natural science background that will help prepare you for a career in medicine, law or related fields, choose a minor in Chemistry.  


Why LaGrange?
Opportunities to work with faculty on independent, original research projects
A student-to-faculty ratio of 11:1, providing the individual attention you deserve
New 43,000-square-foot science facility devoted solely to laboratory spaces
Travel/study experiences to complement your coursework; recent journeys examined the natural wonders of the Galapagos Islands, the wildlife of the Yucatan Peninsula, and the ecology and culture of Hawaii
Nearby West Point Lake and its surrounding forests provide a natural classroom, facilitating research and ongoing work with Chattahoochee Riverkeeper