Find your formula for success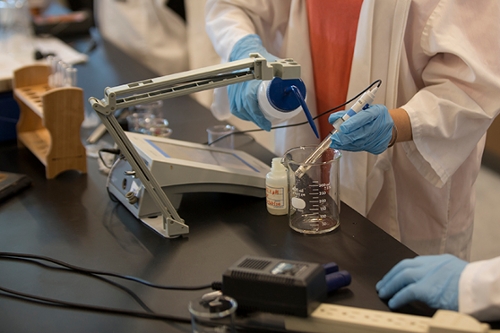 LaGrange grads have achieved successful careers in chemistry-related fields:
Research Biochemist with pharmaceutical giant Merck & Co.
Professor of Chemistry
Pharmacist with Children's Healthcare of Atlanta
 LaGrange students also have gone on to premier graduate schools:
Ph.D. program in toxicology, University of Georgia
Mercer University School of Medicine
Morehouse School of Medicine
If you're interested in health care, LaGrange Chemistry/Biochemistry degrees help you prepare for the chemistry and chemical principles portion of the MCAT, PCAT and DAT entrance exams. The B.A. in Biochemistry major is particularly focused on Pre-Health Professional preparation, with coursework in biology, chemistry, biochemistry, mathematics and physics.
Unsure of your career direction? Students in chemistry find themselves prepared for a limitless variety of career opportunities, including food research and preparation, chemical engineering and medicine. They find their broad training useful in fields such as teaching, business management, law and government. Chemistry also is an appropriate major for those planning to become health science professionals specializing in clinical chemistry, pharmacology and environmental science.
Meet LaGrange graduates