Find freedom to create
The visual world is your playground of choice. Unleash that creativity by pursuing Art and Design at LaGrange, where you'll receive skilled mentoring from your professors and inspiration from your classmates.
Here, you'll build a solid foundation in traditional techniques, but then be encouraged to push the boundaries of your own imagination.
What field of study will you choose?
If you concentrate on Animation, you'll bring 2-dimensional drawings, 3-dimensional stop motion models and computer generated characters to life as you prepare for an exciting career in one of the most important media art forms today.
Pursue a concentration in Ceramics/Sculpture, and you'll not only learn how to produce art from clay and related materials, but receive the guidance and encouragement to develop your own artistic style as well.
Graphic Design students channel their love of visual art into a program that focuses their ideas, unites them with technology, and creates digital content for print, interactive and motion graphics.  
Painting/Drawing classes emphasize the aesthetic, critical and technical development of each student through a program of coursework, independent study and regular critiques.
Photography students are challenged to push their creative skills to the professional level and carve a career niche for themselves in photojournalism, advertising, photo illustrating or fine-art photography.
Choose to minor in Marketing Design and you'll find yourself bridging the gap between two separate but equally exciting worlds, developing successful marketing presentations using your own personal eye for composition, color and visual identity.
You can pursue Art History/Museum Studies as either a minor or a concentration. Either way, you'll find the curriculum a unique combination history, theory and practical learning that will prepare you for a number of career opportunities in administration, collections and specialty disciplines within museums, zoos, aquariums, parks and botanical gardens.
Why LaGrange?
A student-to-faculty ratio of 11:1, providing the individual attention you deserve
A 32,000 square-foot art facility that features light-filled studio spaces and a full art museum
Travel experiences to complement your studies: Recent journeys examined art and architecture in Italy, England and Greece.
LaGrange grads have worked as Disney animators, won Emmy awards and created nationally syndicated comic strips.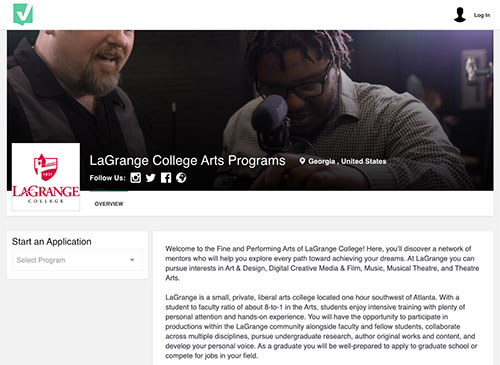 Scholarship opportunities
For scholarship consideration, please submit materials through Acceptd. There is no cost associated with this submission.