Impact student learning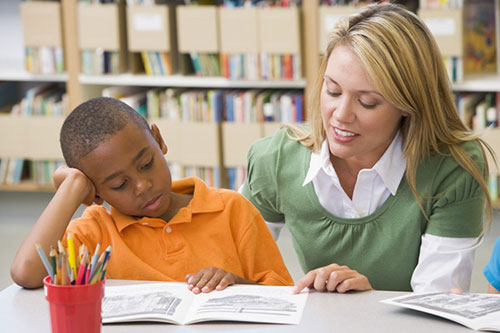 Are you an educator who would like to work smarter and not harder? Do you aspire to be an instructional leader in your school? The M.Ed. program at LaGrange College can help you answer these questions through a master's program that is designed for the classroom teacher. Here are several advantages of a LaGrange College M.Ed.:
Only one year of coursework is required
LaGrange's low student-to-professor ratio ensures personal learning
Move ahead … faster
You will begin the program in the summer and can complete it the following summer. In just over 12 months, you can earn your master's degree and the accompanying pay-grade increase (about $5,000 per year when moving from a T-4 to a T-5 certification).
Enjoy a convenient schedule
The M.Ed. program begins in the summer when you have more time to dedicate to your studies. When you return to the classroom in the fall, you will be accustomed to the workload of graduate study, making the transition smoother. Fall and spring term courses are offered synchronously during the evening, giving you the flexibility to complete your work day before classes begin.
Classes follow a hybrid model, with most class meetings conducted through a synchronous platform. Five on-campus seminar days are scheduled throughout the program (weekday during summer term and Saturday during Fall and Spring terms).
Seminar days for the 2023-24 cohort will be held on campus from 10am-4pm on the following days:
June 6, 2023
August 26, 2023
November 11, 2023
February 3, 2024
April 13, 2024
New cohorts begin each June, with an application deadline of May 15.
Prepare for your future
You'll learn to use and produce research for instructional improvement and to make informed curriculum decisions schoolwide.
Prepare for a future as a creative instructional leader—and for advanced credentials—through the M.Ed. program at LaGrange College.
M.Ed. in Curriculum and Instruction
Admission Requirements
The following requirements must be met for admission into the MEd program:
Candidate must have graduated from an accredited institute of Higher Education
Candidate must hold a current or renewable teaching certificate at a Level 4
Candidate must complete admissions application
Candidate must receive approval of Department Chair
Candidate must have a minimum TOEFL score of 550 if English is not the primary language
Handbook
For More Information