Get Housing facts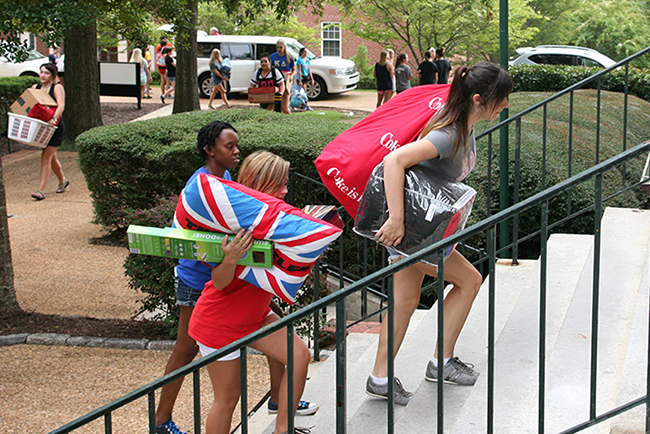 Is everyone required to live on campus?
Full-time students are required to live on campus all four years unless:
The student is 23 years of age or older on the first date of semester classes
The student is married and living with his/her spouse
The student is responsible for a dependent child
The student is a veteran with at least two years of active military service
The student resides exclusively with parent(s) or legal guardian(s) in their/her/his primary residence that is within a 30-mile commute of the college
What is included in the Residence Hall room charge?
Air conditioning
Connections for cable
Internet access
Laundry facilities
Community microwaves, refrigerators
Magnetic card security system
What items are permitted in the residence halls? 
Electric fans, radios, computers, stereos, study lamps, shavers, curling irons, clocks, TVs, single cup brew systems (Keurig style)
One small refrigerator per room, no bigger than 5 cubic feet 
Hair dryers can be used; however, no other appliance should be using the same outlet during usage
Candles with unburned wicks are permitted as decorative items and/or with candle warmers; candle warmers must be turned off when residents are not in their rooms and placed in a safe location to prevent a concern for fire safety 
Students may only use Command strips to hang items in residence hall rooms
Non-dangerous aquarium fish in an aquarium, limited to a maximum of 20 gallons; the aquarium must be cleaned regularly
Mace is permitted to be carried and used only in a self-defense manner; any uses for mace outside of self-defense are prohibited 
What items are prohibited in the residence halls?
All appliances with an exposed heating element, regardless of wattage, are prohibited
Sunlamps, coffee makers (regular), space heaters, hot plates, grills, electric fry pans, woks, crock pots, musical instrument amplifying equipment, air conditioners, toasters, ovens and microwaves*
*Microwaves are prohibited in general; however, the college pre-furnishes many residence halls with 1 microwave per housing unit; a microwave is also provided in designated lounge areas of each residence hall
Excluding non-dangerous aquarium fish, all other animals/pets may not be kept on college property (this includes inside and/or outside areas of facilities or grounds)
Students and guests of students are prohibited from bringing animals/pets into any college housing at any time; short visits are also prohibited 
Students may not use items that pierce the doors or walls to hang items 
The display of rugs, banners, signs, flags and other objects from outside and/or in college residence hall windows are prohibited
Open flames, including burning charcoal, burning candles, burning incense sticks, oil lamps or other burning devices are prohibited in college housing
Waterbeds, lofts and other non-college approved furnishings are not permitted in any residence hall 
LaGrange is a dry campus: NO alcohol or alcohol paraphernalia (empty beer cans, bottles, funnels, kegs, etc.)
Weapons and facsimile firearms are prohibited (Full weapons policy can be located in the Student Handbook)
What should I bring when I move in?
Bath towels
Pillow
Sheets for single bed
Blanket/bedspread
Laundry basket/bag
Wastebasket
Iron
Alarm clock
Personal items
Flashlight
Please – no refrigerators larger than five cubic feet. (Note *microwave policy above.)
Is there a Damage Deposit?
Full-time undergraduate day students will be required to pay a $300 enrollment deposit to reserve their space in the incoming class. No deposit will be refunded after May 1. All students deposited by May 1 will be guaranteed campus housing pending space limitations. Campus housing assignments will be finalized and room/board charged will be applied by July 1. Students must have all required paperwork (including requests to live off campus) submitted by this date. Students who deposit after July 1 will be assigned housing, if available, on a first-come, first-served basis.
Of this $300 enrollment deposit, $100 covers a residence hall damage deposit that may be refundable at the time that the student either graduates or receives permission to live off campus (less any assessed fees due to damages). The remaining $200 is used by the college to cover many of the services provided during the first year.

Students who fail to check-out of their residence hall room at the end of the year will receive a fine and forfeit their $100 deposit that will no longer be refundable.