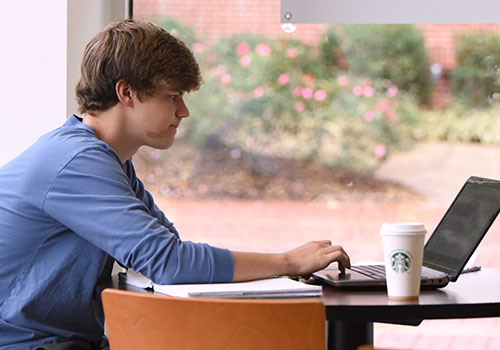 Summer courses can help boost your GPA—and can keep your graduation plans on track.
Plus, discounted undergraduate tuition—by nearly 50%—and fully online classes make it convenient and affordable. And financial aid may be available.
Undergraduate tuition - $680 per semester hour
(plus a $100 discount per hour after the first three hours)
Sessions begin May 27.
Courses offered include:
SUBJECT
NUMBER
TITLE
SEMESTER
HOURS
INSTRUCTOR
 
ACCOUNTING AND BUSINESS MANAGEMENT
 
ACCOUNTING
ACCCOUNTING
4460
Internship in Accountancy
1.00
James, P
 
MANAGEMENT
MANAGEMENT
4460
Internship in Business
1.00
James, P
 
NON-PROFIT LEADERSHIP
NON-PROFIT LEADERSHIP
4460
Internship: Non-Profit Leadership
3.00
McMullen, L
 
SPORTS MANAGEMENT
SPORTS MANAGEMENT
4460
Internship Sports Management
1.00
James, P
 
BIOLOGY
BIOLOGY
1101
General Biology I
3.00
Newman, M
BIOLOGY
1101L
General Biology I LAB
1.00
Newman, M
BIOLOGY
1101L
Biology I LAB (ETHOS)
0.00
*CRN 50063 is restricted to students enrolling Fall 2018 and beyond
BIOLOGY
1102
General Biology II
3.00
Newman, M
BIOLOGY
1102L
General Biology II LAB
1.00
Newman, M
 
CORE
CORE
3001
The American Experience
3.00
Tures, J
 
ENGLISH
ENGLISH
0100
Basic Composition
3.00
Scott, L
 
EXERCISE SCIENCE
EXERCISE SCIENCE
3305
Sports Psychology
3.00
Leiker, A
EXERCISE SCIENCE
4400
Internship
1.00-12.00
Leiker, A
 
GENDER STUDIES
GENDER STUDIES
3500
Race/Ethnicity/Gender in Society
3.00
Otto, B
 
HISTORY
HISTORY
1101
World Civilization I
3.00
Shirley, K
 
MATHEMATICS
MATHEMATICS
0100
Basic Mathematics
3.00
McClanahan, S
MATHEMATICS
1101
College Algebra
3.00
Hwang, S
MATHEMATICS
1114
Introduction to Statistics (STEM)
3.00
McClanahan, G
MATHEMATICS
1120
Problem Solving
3.00
McClanahan, S
**$35.00 Proctor U fee
 
MODERN LANGUAGES
 
SPANISH
SPANISH
1101
Elementary Spanish I
3.00
Appleby, E
SPANISH
1102
Elementary Spanish II
3.00
Campbell, A
SPANISH
1102M
Elementary Spanish for a Healthcare Professional
3.00
Campbell, A
 
MUSIC
MUSIC
1105F
Applied Composition
1.00
Hoexter, R
MUSIC
1105F
Applied Composition
1.00
Hoexter, R
MUSIC
1112
Music Survey: American Film Music
3.00
Harry, A
MUSIC
3352
Composition & Music Technologies:
Intro to Sequencing and Production
1.00
Hoexter, R
MUSIC
3352
Composition & Music Technologies:
Electronic Music and Synthesizers
1.00
Hoexter, R
 
NURSING
NURSING
3305
Nutrition and Health
2.00
Blair, S
NURSING
4495
Independent Study in Nursing
1.00-3.00
Holden, S
 
PHILOSOPHY
PHILOSOPHY
3430
Bioethics
3.00
Ahearn, D
 
PHYSICS
PHYSICS
3411
Thermal Physics
3.00
Ludwick, K
 
PSYCHOLOGY
PSYCHOLOGY
1101
Introduction to Psychology
3.00
Hu, C
PSYCHOLOGY
3304
Educational Psychology
3.00
Hu, C
PSYCHOLOGY
3350
Abnormal Psychology
3.00
Hu, C
PSYCHOLOGY
3358
Psychology of Aging
3.00
Staff, F
PSYCHOLOGY
4000
Internship in Psychology
1.00-12.00
Thomas, S
 
RELIGION
RELIGION
1103
New Test Writings in Context
3.00
Asplund,
 
SOCIOLOGY
SOCIOLOGY
1000
Introduction to Sociology
3.00
Otto, B
SOCIOLOGY
3500
Race/Ethnicity/Gender in Society
3.00
Otto, B