PACE – Panther Academic Center for Excellence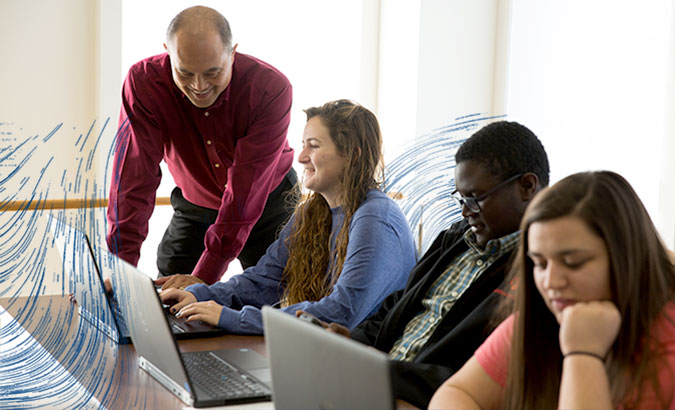 College isn't meant to be a solo ride. Sometimes, reaching your goal demands that you get extra help – expert coaching outside of class from faculty and staff who feel like family. At the PACE Center, you'll discover a network of mentors willing and able to provide free academic support services such as:
Faculty Led Study Halls

 


Need a quiet place to study where knowledgeable help is immediately available? PACE offers weekly study halls in Math, Science, English and other subjects, all free and all staffed by LaGrange faculty. Dates and times vary each semester. Check the LC website calendar, email

 

PACE@lagrange.edu

 

or call 706-880-8652 for a current schedule.
Academic Coaching

 


Every afternoon Monday-Thursday, between the hours of 1-4pm, PACE Academic Coaches meet with students to explore new academic paths, set goals, work on time management or plan successful study strategies. Walk-ins are welcome or schedule an appointment by emailing

 

PACE@lagrange.edu, or calling 706-880-8652. Faculty members are invited to recommend students for academic coaching via DropGuard or by contacting the

 

 

 

PACE office.
Dedicated Space for Testing, Development and Cornerstone Activities

PACE houses an accommodation facility for private and/or extended testing. Contact the Testing Center at PACE@lagrange.edu to set up an area.
Dedicated meeting spaces are available where faculty and staff may share and explore ideas or plan developmental activities.
Space can also be reserved by Cornerstone activity groups by emailing

 

PACE@lagrange.edu

 

or calling 706-880-8652.
Accommodation Testing Procedure
Receiving Accommodation Approval
Students will e-mail, fax, or bring their previously or recently assigned accommodation paperwork and diagnosis to Pamela Tremblay (link to email) in the Counseling Center located on the first floor of Smith Hall.

Students must turn in initial paperwork 1 week prior to their exam to allow for processing.

Ms. Tremblay evaluates the paperwork and provides students with an approval form to be signed by each of the instructors from whom the student plans on receiving accommodations.
Instructors return the signed forms back to Pamela Tremblay via inter-office mail or in person in the Counseling Center located on the first floor of Smith Hall.
Scheduling Accommodation Testing
Instructors must schedule a student's accommodation testing with PACE no less than 1 week in advance of the test.

Instructors may schedule exams by e-mailing

 

PACE@lagrange.edu, or calling 706.880.8652
Should instructors need to schedule an exam with less than one week's notice, accommodations will be provided on a space available basis.

Exams must be submitted to PACE no less than 24 hours before the scheduled test time.

Instructors may deliver exams in person, via inter-office mail, or contact PACE for alternate means of delivery.
All exams will be held in a locked room prior to the exam time, and delivered back to the individual instructors the same day of the scheduled test.
Instructors, if you have additional or special requirements regarding the exam (special calculator, etc.) please let PACE know at least 24 hours in advance of the student's scheduled test time.
Testing Day
Students ID's are required for testing services.
Students are not permitted to keep cell-phones on their person during the exam.
If the test is electronic, students will be required to use a PACE computer, they will not be permitted to bring their own.
Any indication of student cheating will result in the exam being stopped immediately with notification of the student's instructor.