Leave home to arrive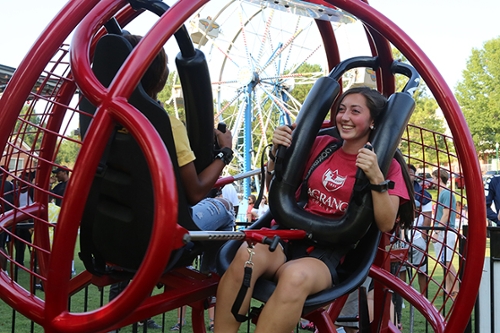 Life at LaGrange offers almost endless possibilities. To help you transition to college life, students are required to take part in a First Week program.
The college offers three distinct First Week options for new students and their families.
First Week programs
New students
First Week is a three-day orientation program designed to help you with your academic, personal, social and cultural transition into the LaGrange Panther community. Held before the start of classes, the program is geared toward both first-year and transfer students and includes a mix of engaging and educational activities throughout campus.
First Week starts on  Saturday, August 24  (the day of move-in), at 9 a.m., on the plaza in the center of campus and continues that night with activities in the residence halls. The First Week program will continue each day through  August 27th, when we celebrate your completed transition with an annual block party—Spirit and Traditions.
Classes start  Wednesday, August 28, and the Panther Activities Committee will have optional activities every night of the orientation experience and throughout the first week of the semester to help you meet other students on campus.
Note: The cost of orientation is billed to your student account as a mandatory fee, which covers all program and administrative costs for your First Week, as well as your Panther Pathways experience.
We look forward to having you join us!
Transfer students
The Transfer Student Experience is geared toward those who have previously attended another college or university. LaGrange College may be very different from your previous institution, and we want you to feel comfortable as you transition to this new experience.
Before First Week kicks off the next day (schedule below), attend the Transfer Student Experience Friday, August 23rd,  from 9 a.m. to 5 p.m., in the Dickson Assembly Room in Turner Hall. This portion of the New Student Orientation program provides the foundation of what it means to be a LaGrange College student. You'll have the opportunity to connect with campus partners, other transfer students and faculty.
All transfer students are required to participate: Trust us, we provide a great deal of information that is important to your successful transition to LaGrange College. Orientation is a great opportunity to begin developing relationships with your classmates—some of which will grow into lifelong friendships.
Parents and family
Please Note:
After receiving feedback from parents of incoming students, all formal parent and family orientation activities have been canceled for Saturday, Aug. 24.
Parents are encouraged to join us during move-in and meet with available staff, but no formal program will be conducted. 
During this transition to LaGrange College, please don't hesitate to call Trinity Lynn Hightower in the Housing Office at 706-880-8975.
Thank you!
First Week schedule
Saturday, Aug. 24
TIME
 
9 a.m. - 1:30 p.m.
Move-in
Noon - 1 p.m.
Lunch
Pitts Dining Hall
1 - 1:30 p.m.
Check in for commuters
Dickson Assembly Room
Turner Hall
1:30 - 2 p.m.
*Welcome
Dickson Assembly Room
Turner Hall
2-5 p.m.
Student Scavenger Hunt
5 - 6:30 p.m.
Dinner
Pitts Hall
7 - 8:30 p.m.
*Hall meetings/Commuter Student Meeting
9 - 10:30 p.m.
Capture the Flag
*Required events
Sunday, Aug. 25
TIME
 
7 - 9 a.m.
Breakfast
11 a.m. - noon
Chapel & Worship (Open to all Faiths)
Spiritual Life Center
Henry Hall
Noon - 1 p.m.
Lunch
Pitts Dining Hall
1 - 1:30 p.m.
Meet your O-Team
Location TBA
1:30 - 2:15 p.m.
*Social Code and Campus Policies
Auditorium
2:15 - 3:15 p.m.
*Decoding your professor
Auditorium
3:15 - 4:15 p.m.
*Title IX policies
Auditorium
5 - 6:15 p.m.
Dinner
Pitts Dining Hall
6:30 - 7:30 p.m.
*SGA Overview and Honor Code
Price Theater
7:30 - 8:30 p.m.
Dessert Reception
President's Home
9:30 - 11 p.m.
Hypnotist
Auditorium
*Required events
Monday, Aug. 26
TIME
 
7 - 9 a.m.
Breakfast
8:30 - 9 a.m.
Meet your O-Team
Location TBA
9 a.m. - 10 a.m.
*Cornerstone Meeting
10:30 - 10:45 a.m.
*Global Engagement
Dickson Assembly Room
Turner Hall
10:45 - 11:30 a.m.
*Your Future/Your Career
Dickson Assembly Room
Turner Hall
Noon - 1 p.m.
Lunch
Pitts Dining Hall
1:30 - 4:30 p.m.
Beach Bash
Earl Cook Recreational Park
5 - 6:30 p.m.
Dinner
Pitts Dining Hall
9 - 10:30 p.m.
Roast and Toast Concert
Location TBA
*Required events
Tuesday, Aug. 27
TIME
 
7 - 9 a.m.
Breakfast
8:30 - 9 a.m.
Head, Heart, Hands: A Wesleyan Understanding of Service
9 a.m. - 11 a.m.
*First Week Service Project
Noon - 1 p.m.
Lunch
Pitts Dining Hall
1 - 2 p.m.
*Bystander Intervention
Dickson Assembly Room
Turner Hall
2 - 4 p.m.
*Lewis Library Open House Drop-In
5 - 7:30 p.m.
Spirit and Traditions/Dinner on the Quad
Residential Quadrangle
8 - 8:30 p.m.
*Hall Meetings
9 - 10:30 p.m.
Late Night on the Quad
*Required events
Wednesday, Aug. 28
*First Day of Classes
TIME
 
7 - 8:30 p.m.
*Opening Convocation
Callaway Auditorium
9 - 10:30 p.m.
Late Night on the Quad
*Required events
Thursday, Aug. 29
TIME
 
5 - 7 p.m.
Fair on the Hill/Dinner on the Plaza
8 - 10 p.m.
Greek Game Night
Plaza
*Required events