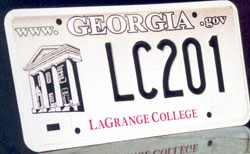 Ride with pride: Display a LaGrange College license plate 

Purchasing a LaGrange College license plate is a great way to display your association with Georgia's oldest private institution of higher learning.
The latest edition of the college plate features the prefix 'LC' before the plate number and an illustration of Smith Hall.
If you did not order the plate from the Georgia Department of Motor Vehicles you can still get one, but must go through the College to do so. There is a $25 one-time manufacturing fee involved with the purchase of a collegiate plate as well as a $25 special tag fee.
To order the LC plate, contact Melissa Reeves in the LaGrange College Office of Business Affairs at (706) 880-8231 or mjreeves@lagrange.edu .