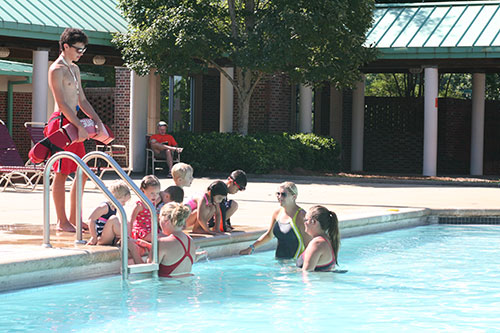 Registration for 2019 American Red Cross Learn to Swim classes are closed.
Please check back in spring 2020 for information on upcoming summer swim lessons.
Available class levels
Level 1 – (Ages 3-6 years old; Orientation to swimming) Level 1 helps students to feel more comfortable and confidant in the water.  Students will learn basic safety rules such as using a lifejacket correctly and recognizing a swimmer in distress and getting help.  Swimming skills that are included in this level are submerging eyes, nose, and mouth, opening eyes underwater and picking up a submerged object, swimming on front and back using arm and leg motions, exhaling underwater, and floating on front and back.
Level 2 – (Ages 5-8 years old; Swims independently at least 4 feet deep) In level 2 the students will learn new aquatic skills while reviewing the safety and swimming skills that were learned in level 1. Swimmers will learn to submerge their entire head, bob in the water, glide on their front and back, the jellyfish float, and begin to work on the front and back crawl.
Level 3 – (Ages 7-10 years old; Swims independently at least 6 feet deep) In this students will build on the skills that they learned in level 2. New skills will include reaching assist, kneeling or standing dive, rotary breathing, survival float, and the butterfly kick and body motion. The front and back crawl will also begin to be perfected.
Level 4 – (Ages 9 and older; Swims 25 yards of ea. stroke independently) In level 4 students will begin to develop confidence in their strokes and other aquatic skills. They will learn rules for safe diving, throwing assist, feet first surface dive, and stride and shallow dive. Swimmers will continue to work on the front and back crawl and begin to learn the elementary backstroke, breaststroke, and butterfly.
Level 5/6 – (Ages 9 and older; Swims 50 yards of ea. stroke independently) This level is designed to provide further coordination and refinement of the strokes.  All strokes will be perfected in this level and new skills such as survival swimming, open turns on front and back, standing dive, rescue breathing, tuck and pike surface dive, and flip turn on front and back will be learned.
(minimum 3; maximum 5 per class; 10 with swim aid)