PANTHER TREKS
Journey to Madrid, Seville and Barcelona with Dr. Joe Cafaro, retired History Professor
You experienced a global education as a student—now travel the globe as a graduate. Join your LaGrange friends for this travel program to Spain, designed for one week to accommodate the working professional schedule while providing fellowship and education for LaGrange College alumni.
Spain Classics: Madrid, Seville, and Barcelona
In just one week, learn about three great Spanish cities to explore the Spanish culture filled with world-class art treasures, cultural delights, tasty food, sunshine, friendly people and castles. On this journey with Dr. Joe Cafaro, savor the full breadth of this fascinating destination, beginning with Spain's marvelous capital city, Madrid, to explore art at the Prado. Next explore Toledo, the cultural center during the Moorish occupation of Spain. Ride the ACE bullet train to Seville, Andalusia's most seductive city, a smart choice for those in search of history, culture, and romance. Next ride the AVE bullet train to explore Barcelona, the most cosmopolitan, modern and avant-garde city in Spain. Enjoy free time each evening as well as an afternoon in each city.
Spain
9 days/7 nights
Madrid (3), Seville (2), Barcelona (2)
Departure Date: March 21, 2020
Return Date: March 29, 2020
US Gateway: Atlanta

ITINERARY
DAY 1 – Overnight flight to Madrid.
DAY 2 – MADRID -arrival, meet travel director and transfer to hotel. Enjoy an orientation walk. Dinner.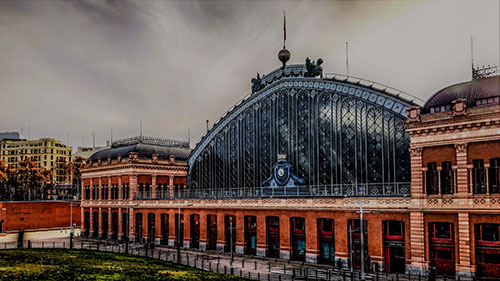 DAY 3 – MADRID -morning: guided visit of the city including entrances to the Prado Museum. Free afternoon. Evening walk around the old quarter of the city including the Plaza Mayor.
DAY 4 – MADRID - this morning drive to Toledo. Upon arrival, a local guide will introduce you to the highlights of this former capital of Spain. Visit the stunning gothic cathedral, the Santa Maria la Blanca synagogue and the Santo Tome Chapel to admire the Burial of the Count of Orgaz by El Greco. Return to Madrid after a lunch break.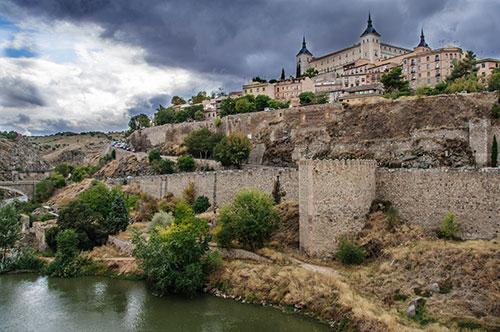 DAY 5 – SEVILLE- take the AVE fast speed train to Seville. Upon arrival transfer to your hotel and then enjoy an orientation walk. Dinner.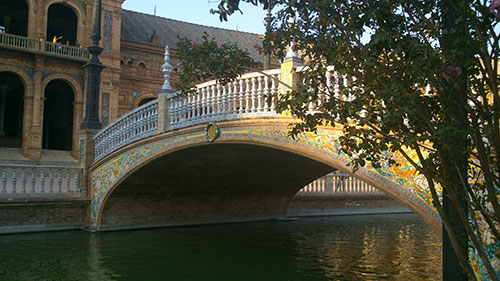 DAY 6 – SEVILLE- enjoy a guided visit of the city where you will see highlights such as the Plaza de Espana, Maria Luisa Park, the Santa Cruz quarter and the Torre del Oro. Entrances are included to the Cathedral and the Alcazar. Free afternoon.
DAY 7 – BARCELONA- take the AVE fast speed train to Barcelona. Upon arrival transfer to your hotel and then take an orientation walk.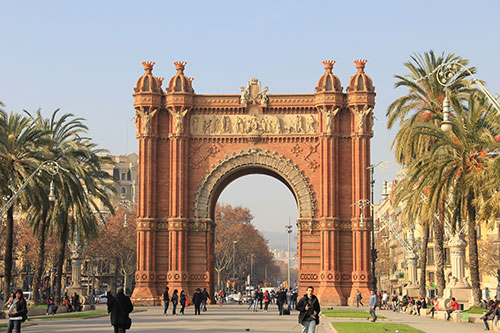 DAY 8 – BARCELONA -Enjoy a guided visit of the city including highlights such as the Ramblas, the Gothic quarter and the Montjuich Hill. Continue with a visit to the Sagrada Familia church that was started by Gaudi. Farewell dinner.
 
DAY 9 – Transfer to airport for the return flight to the United States.
Itinerary order is subject to change.
INCLUDED:
Round-trip air transportation from/to Atlanta (including departure fees).
Full-time travel director.
All tips.
Accommodations centrally located in the city centers in twin rooms with private bathrooms.
7 breakfasts, 3 dinners.
Guided visits: Barcelona, Seville, Madrid.
Entrances: Sagrada Familia, Seville Cathedral, Alcazar, Prado Museum.
NOT INCLUDED:
Passport and visa fees.*
Beverages with meals.
Medical Insurance.
Checked baggage may be extra depending on the airline.
*Traveler's responsibility to obtain required documents to travel through all countries on the travel program (passports, visas, etc.) Passports must be valid 3 months beyond travel dates. 
PER PERSON RATES
Double $4,070   Single $4,620
Optional Medical insurance: $75
Optional Medical plus Cancellation Insurance: $200
REGISTRATION/PAYMENTS
Participants should register with their names as they appear or will appear on their passports. Hart Travel Partners will assess a $150 name change fee plus any additional airline charges for any registered participant who requests a name change in writing.
Payment Deadlines:
- October 5, 2019: registration deposits due: $500 per person, plus insurance premium (optional).
- November 22, 2019 final balance due.
- For all new enrollments after November 22, 2019 full payment is required plus any additional airline fees.
Standard Cancellation Policy:
Cancellations must be submitted in writing, including by email or fax to the LaGrange College Office of Alumni and Community Relations. The date of the cancellation is the date on which LaGrange College receives the notice. Payments cannot be transferred to another account. Insurance premiums are never refundable.
Cancellation Fees:
From October 5, 2019
- full refund less a $500 cancellation fee and $200 insurance premiums.
From December 1, 2019
- Full refund less a $1500 cancellation fee and $200 insurance premiums.
After January 16, 2020
- No refund.
Host biographies
Dr. Joe Cafaro, Retired Professor of History
Served LaGrange College for 33 years, retiring in 2017 as Professor of History. Throughout his tenure at the college, Dr. Cafaro served this institution by his committee involvement, research, publications and as Department Chair for History and the Social Sciences. Dr. Cafaro holds a Ph.D. in modern European history, with a concentration in Russian history, from Florida State University. He was the recipient of the Vulcan Teaching Excellence Award for the 2012-2013 academic year for "challenging the minds" of his students. As a professor, he was passionate about exposing his students to international travel. Since retiring, Dr. Cafaro enjoys sharing his passion for history with the Office of Alumni and Community Relations through small-group discussions and the travel program, Panther Treks. Recently, he led Panther Trek travelers to explore London to Paris: World War II to retrace the events of D-Day and last year to discover The Best of Italy: Rome, Florence, and Venice.
Steve Hart, Founder of Hart's Travel Partners
Born in Germany, Steve Hart spent his childhood in Bahrain, Kenya, England, Spain, Portugal, Brazil, Mexico, and Peru. He studied Spanish and Portuguese at Bristol University in England. During holidays he led groups of students on educational programs through Spain and Portugal. Through hundreds of tours and thousands of travelers, he has transformed his passion for travel into a career, culminating in the realization of his dream of founding his own company. Steve lives south of Boston with his wife and two beautiful children. (Who of course have their own little suitcases!) Steve has enjoyed his time working with Dr. Cafaro and LaGrange College Panther Treks travelers to explore London to Paris: World War II to retrace the events of D-Day and last year to discover The Best of Italy: Rome, Florence, and Venice. Steve also works with LaGrange College professors for student international travel. For the past seven years 3D Journeys Travelers have enjoyed journeys planned by Steve, exploring and discovering different regions of the world: Spain, Croatia, Cuba, Sicily, Rome, Central Europe great cities (Budapest, Bratislava, Salzburg, Vienna and Prague), Morocco and this year to Alps to Lagoon: Culture and Cuisine from Lucerne to Venice.
For optional reading list on History, Cuisine, Literature, and Art of Spain contact alumni@lagrange.edu