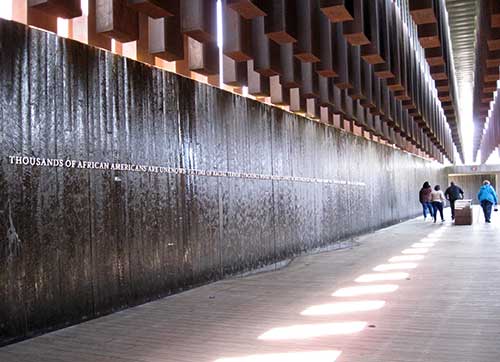 THE LEGACY MUSEUM AND NATIONAL MEMORIAL FOR PEACE AND JUSTICE
OCTOBER 28TH - TOUR ITINERARY
Depart Sunny Gables Alumni House, LaGrange College at 8:15 a.m.
Join us as we journey to Montgomery, Alabama, to explore the Legacy Museum, located where enslaved people were once imprisoned, as well as the National Memorial for Peace and Justice that commemorates the victims of lynching in the U.S.
Upon arrival tour The Legacy Museum: From Enslavement to Mass Incarceration. The museum employs unique technology to dramatize the enslavement of African Americans, the evolution of racial terror lynchings, legalized racial segregation and racial hierarchy in America.
Lunch is included to enjoy with fellow travelers in historic downtown Montgomery.
Our journey includes a visit to the National Memorial for Peace and Justice, the nation's first memorial dedicated to the legacy of enslaved black people, people terrorized by lynching, African Americans humiliated by racial segregation and Jim Crow, and people of color burdened with contemporary presumptions of guilt and police violence.
Return to LaGrange College at approximately 5:00 p.m.
$95 per person for trip due at registration. Includes ticket to the Legacy Museum and the National Memorial for Peace and Justice, lunch, luxury coach and refreshments.
Purchase tickets
Registration begins Monday, April 22nd (limited space):