Theatre Arts Jan Term
Greek Theater: Birth of Drama 
Students travelled with Theatre and Art faculty to Athens where they visited Acropolis, the Parthenon and the National Archaeological Museum. They also travelled to the ancient cities of Corinth and Mycenae, home of Agamemnon and Clytemnestra, and to Delphi and the site of the famous oracle. Students participated in a foot race at the Ancient Stadium in Olympia and then to Rhodes, "the jewel of the Dodeanese Crown." One of the highlights of the trip was a performance at the Ancient Theatre at Epidaurus.
Along the Streets of England: London, Stratford, Oxford and Bath 
Students travelled to London, Bath, Oxford and Stratford. In London, students toured the Globe Theater and did a Shakespeare workshop with RSC actor Johnny Wolff. They saw THE LION KING, MUCH ADO ABOUT NOTHING and AMADEUS. They also visited Stonehenge and Stratford-Upon-Avon where they toured Shakespeare's birthplace and the Holy Trinity Church.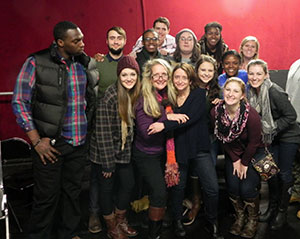 Applause! Applause! 
Students travelled to NYC where they saw LA BOHEME, THE CURIOUS INCIDENT OF THE DOG IN THE NIGHT, IF/THEN & A GENTLEMAN'S GUIDE TO LOVE AND MURDER.  They had a master class with SNL star Rachel Dratch, toured Radio City Music Hall and The Metropolitan Opera.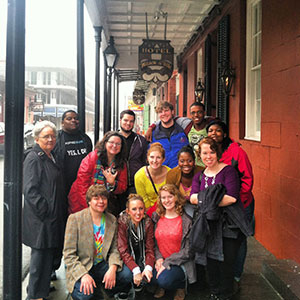 Tennessee Williams, The Mississippi Delta and The Crescent City--New Orleans 
Students studied the world of playwright, Tennessee Williams. With Professor Kim Barber Knoll and Tracy Riggs they travelled the Mississippi Delta from Columbus, Mississippi, Williams' birthplace, to Clarksdale, where he grew up, down through the Mississippi Delta to New Orleans, home of Stanley and Stella Kowalski and the famous "Streetcar Named Desire." The course culminated in the production An Evening of Tennessee Williams in the Black Box Theater. 
The Play's the Thing 
January 2003-2008 
One of the most popular classes offered during the January Interim is The Play's the Thing.  Students have an opportunity to experience four different plays set in four very different  venues .  They may see a lavish Broadway hit at The Fox Theater in Atlanta; a regional work by a Southern playwright at the nationally known Alabama Shakespeare Festival; classic Shakespeare at  the Globe-inspired Shakespeare's Tavern in Atlanta;  or a contemporary drama at the Tony Award winning Alliance Theatre.