Fast forward to your future
In 2016 alone, film and television productions based in Georgia generated an economic impact of $7.2 billion. As new media projects arrive every month, exciting career opportunities are opening up for creative people who are properly prepared. 
LaGrange College's Bachelor of Arts degree in Digital Creative Media and Film prepares and equips students for entry-level positions within the film, media, entertainment and broadcast industries, as well as for positions in creative worship and church media production.
The Digital Creative Media and Film curriculum is centered around the creative and post production techniques that are used in:
Film & Television production
Documentary, Advertising, and Promotional Production
Music Video Production 
Sound Design
Recording Studio Audio Engineering
Location Audio and Audio Post Production
Cell, Stop-Motion and Computer Animation
Corporate and Industrial Video Production
Experimental and Non-Traditional Media genres
New DCMF Visiting Professor, Yson DeBlois: Instalation Portfolio 
Music Video, Lean On Me, in collaboration with the Music program.
Stop Motion Animation Project by Eva Tallent, student at LC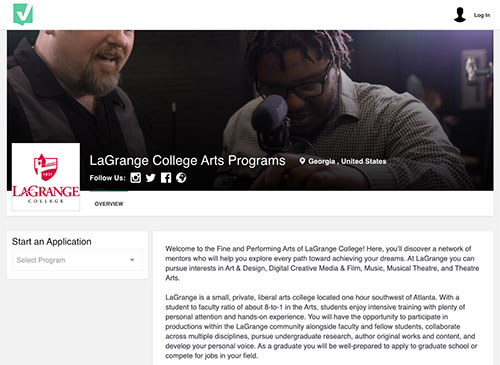 Scholarship opportunities
For scholarship consideration, please submit materials through
Acceptd
. There is no cost associated with this submission.