May 7 – Planning for fall on the Hill
Ensuring a safe return to living and learning on the Hill this fall will require dedicated effort on all our parts. To direct that work, the Cabinet has convened several committees to tackle areas of challenge. We want to maximize the campus experience, while also addressing the threat of COVID-19. To do so, we are working in partnership with District Four Public Health officials, and they have even provided a campus liaison to help us. 
The committees below will begin work next week and will move their recommendations forward by early to mid-June.
Our Health and Safety Committee will focus on strategies to ensure a safe and healthy campus, including social distancing, masks and testing.  They will also examine ways of continuing our mission while limiting the interaction of large groups of people."
Sandy Blair - Chair
Rob Dicks
Juliet Moncrief (from WeCare)
Lucinda Muncy
Maranah Sauter
Melody Wygienka (from the District Four Public Health Office)
Our Student Life Committee will study how we keep students safe and healthy while maintaining a vibrant campus. Major concerns will be student COVID testing, move in, behavior in common spaces and student movement throughout campus.
Brian Carlisle - Chair
Jennifer Claybrook
Ryan Cook
Beth McClanahan
Anthony Wilson
Seth Woodrow (from the District Four Public Health Office)
Our Faculty Development Committee will work to enhance our teaching through technology, building on the successes we experienced this spring.  We may be forced into a scenario where faculty need to teach some students in the classroom (and recording those meetings) while others will be watching remotely on a computer, then switching those cohorts at the next class meeting. This team's major responsibilities include recommendations on for whom, when, where and how training in effective alternative teaching methods should take place prior to the beginning of classes in August. 
Amber Spratlin - Chair
James Blackwood (IT support)
Nickie Cauthen
Jon Ernstberger
Sarah Holden
Stephanie Thomas
Our Scheduling and Space Committee will examine potential course and classroom scheduling that will promote social distancing and limiting numbers of people who will come into regular contact in academic settings.  They will also create a list of technical resources needed to facilitate alternate delivery methods in identified spaces. 
Jon Ernstberger - Chair
Karen Eley
Chastity Hargrett
Greg McClanahan
Todd Prater
Maranah Sauter
These four committees will report to a Steering Committee composed of Karen Aubrey (Chair), Jon Ernstberger, Amber Spratlin, Brian Carlisle, Sandy Blair, Carol Yin and Susie Hammock (from the District Four Public Health Office). It will coordinate the efforts of the four reporting committees, maintain COVID-19 activity data for SACSCOC purposes, coordinate with the District Public Health office, and report out to Cabinet and the campus.
Please thank your colleagues for the generous and important work they will be doing to return us safely home to the Hill.
Dan McAlexander
President
May 5 – A message from the president:
Back home on the Hill this fall
As the finish line for spring semester fast approaches, I cannot help but be humbled by your response to the circumstances that have challenged us. The LC community has answered with optimism, creativity and resilience. You make all of us proud.
Soon, our eyes will turn toward fall semester, and that may leave you with questions. Please know that even now we are making plans for the campus to resume on-site classes and activities in the fall.
We will be back home on the Hill for fall semester.
Safety will, of course, be our driving force, and that will mean some adjustments. We are meeting with local health authorities this week to define all guidelines and to ensure that we will exceed them. As procedures are finalized, we will share them with all of you.
While these plans will likely call for some adjustments on all our parts, they will not keep us from returning to the vibrant LaGrange campus that we all long to see. Flexibility will certainly be required, but our resolve to return is unbending.
As we move into finals, please take time to enjoy the virtual Honors Day and undergraduate research presentations that will launch on Wednesday at lagrange.edu/honors. Also, be sure to tune into the Facebook stream of a re-imagined Baccalaureate service on Friday, May 15. And don't forget that the Class of 2020 will be celebrated with a commencement ceremony on Saturday, Oct. 17.
Thank you for your amazing work through these last few months. I am grateful for the "lives of integrity and moral courage" that have been on display like never before.
Dan McAlexander
President
March 27 - A message from the president:
Classes to continue online; operations to change
Let me begin by expressing my deep appreciation for the calm cooperation with which the campus community has responded to the current pandemic. The last weeks have presented many challenges, and all of you—students, staff and faculty—have risen admirably to the task.
Today I must announce new adjustments to our operations. With cases of COVID-19 rising in our area—and following new guidance from our District 4 Public Health authorities—it is clear that all classes will remain online through the remainder of the semester. Unfortunately, we now have no choice but to postpone commencement until conditions improve. We will share rescheduling information as soon as decisions can be reached.
Also, the college will suspend normal on-campus operations today at 5 p.m. and employees should consult with their supervisors to prepare to work from home. Offices will close except for essential business, and the dining hall and library will cease normal operations after Sunday.
Students should plan to return home by Sunday. Those who cannot or who have special needs should contact the Housing Office to discuss their situations.
At this time, students only need to take necessary items from their rooms. To avoid transmission of the virus, the Housing staff will be in touch during the coming days to schedule times for students to retrieve all items, which are secure in the meantime.
Though most employees will now be working remotely, staff members still will be available during normal business hours to assist students and their families with both usual requests and special concerns. Visit the online directory if you need assistance locating contact information.
As we move into this time of heightened alert, please shelter in place as much as possible and follow social distancing practices. Let your actions be guided by concern for others.
The leadership team will continue to provide updates to you as new information becomes available.
I remain proud of your response to these quickly changing and challenging days. We have continued our mission, albeit in slightly different ways, and we will continue that work in the weeks and months ahead.
Dan McAlexander
President
March 25 – Adjustments reflect new city ordinance
Yesterday the City of LaGrange amended its Emergency Ordinance, and a few of the new provisions impact our daily operations:
We will close all college fitness/weightlifting centers by 5 p.m. today.
We will post signage at all entrances reminding everyone of the importance of maintaining at least 6 feet of space between individuals.
Please know that—as a private facility—the college dining hall is not impacted by the new restrictions. It will continue its operations and will continue to offer take-out as an option to students.
This morning, public health officials reported that Troup County has six confirmed cases of COVID-19, and the college maintains daily communication with health care and governmental authorities. It is a time to remain vigilant and to be especially cautious about any behavior that would endanger others.
Regarding the presidential search process, the on-campus interviews have also been postponed until we can find the appropriate time and manner to allow campus stakeholders to meet the four finalists.
The leadership team will continue to provide updates to you as we move through this challenging time.
March 24 – Classes to remain online through April 3
With the COVID-19 virus continuing to spread, LaGrange College classes will remain online at least through Friday, April 3 (the last day of instruction before spring break). The leadership team will make a decision about subsequent classes by Wednesday, April 8, at 5 p.m. Campus facilities and offices currently open will remain open.
The situation continues to evolve, and our aim is to protect the well-being of our campus community while continuing our educational mission.
Please, continue to follow the government's restrictions on gatherings and exercise good judgment in not endangering others. Residential students who have chosen to return home are encouraged to remain in place until further notice. Faculty and staff commuting to campus from virus "hot spot" areas should use exceptional caution and discuss the situation with their supervisors.
We also ask that students using the dining hall follow the Governor's mandate of maintaining at least 6 feet between each other. If they prefer, students may also pick up their food to-go.
Health officials remind us that the most important step in containing COVID-19 is for people who are sick with mild respiratory symptoms – fever and cough – to stay home and isolate themselves from others for at least seven days after their symptoms began or 72 hours after their fever has resolved and symptoms have improved.
Be wise; be safe.
March 22 - A note from the chaplain:
"Then the Lord answered Job from the whirlwind … 'I will interrogate you, and you will respond to me.  Where were you when I laid the earth's foundations?'" Job 38
I have so many questions right now.  Although I'd much prefer to hide it, I feel a lot of anxiety.  
As a "spiritual practitioner," and a teacher of sorts who works in higher education, I love questions and encourage them.  
But right now, the questions are just too many.  "What will happen tomorrow?  In two weeks, or three months?  Am I doing the right things?  How is all of this happening?"
The hard answer is, "I don't know." 
But the good news is, "I don't know" is where I have most often found God patiently waiting.  
This virus has disabused us of the illusion of control.  We have many questions, rightly so.  Questions don't mean that we have lost our faith.  Just as Jesus invited us to do, we ask, seek and knock.  
And, we will continue to show up for the people we love, for LaGrange College, and for the whole wide world in the very best ways that we can.   
In all the ways that matter most, today is not different than any other day.  We don't know what any moment might hold.  But we do know that we are called to listen, connect, and take the next faithful steps.  Others have done the same for us. 
LaGrange College has walked hard paths before.  This isn't even our first pandemic!
The 1918-1919 annual report of LaGrange College President Daisy Davies reveals the struggle of the College during the Spanish Flu pandemic:
"The year began with bright prospects and a fine student body...In spite of strict quarantine, several cases of influenza developed and for weeks our work was difficult.  Frightened parents sent for their daughters and some of them...did not return to the College, thus decreasing our numbers.  Sickness and death in homes of some of our faculty requiring changes in the teaching force increased our problems.  All of these things...have made the year a most difficult one.  I am grateful indeed that we have been able to accomplish so much despite these hindrances."  
LaGrange College is an absolute miracle.  Through these 189 years, with the constant help and abiding presence of a loving God, the College has not only survived hardship, it has continually changed the world for the better.  
We are the recipients of an incredible and tenacious legacy, and I know that we are strong enough to step into this new and challenging time.   With God's help, we will somehow emerge even stronger.
"So then let's also run the race that is laid out in front of us, since we have such a great cloud of witnesses surrounding us."  Hebrews 12:1 
President Davies ran her race in 1918.  She and all the others gone before us are among that "great cloud" of faithful LaGrange College witnesses, urging us to run our race in 2020 and beyond!
Grace and Peace, 
Adam 
March 19 - A message from the president:
As you complete this first day of total online instruction, I want to express my thanks for your patience. The speed of this transition has been challenging, and your cooperation while faculty and staff work to continue your education in new ways is appreciated.
Clearly, the arrival of COVID-19 has forced all of us to change and adapt. We continue to monitor the situation closely and remain in constant contact with our WeCare clinic and our region's public health officials for any needed response. 
The LaGrange College leadership team meets on a daily basis to consider any changes of plans or actions required. At this time we intend to continue our current status of offices open and, for students who have remained on campus, access to only limited buildings: residence halls, the library and the dining hall. If a change to that plan is required, please know that we will inform you as quickly as we can.
Whether you are on campus or off, please keep yourselves safe by frequent handwashing, disinfecting surfaces and proper social distancing. If you feel unwell, contact a health care provider quickly.
And if you are having trouble logging in or using Connect for your online work, please visit the support portal or call 844-502-9914.
Again, thank you for your patience as we all deal with this very fluid situation. I am confident in the resilience of LaGrange College, which has served students for 189 years through many worldwide crises. Together, we can rise above this storm and emerge more prepared to succeed and to serve.
Dan McAlexander
President
March 17 – College remains open
As you may have heard, Gov. Kemp will officially close Georgia's public colleges beginning Wednesday. The Georgia Independent College Association has confirmed, however, that this order does not involve the state's private institutions of higher learning.
LaGrange College will continue the schedule announced Sunday that has instruction suspended until Thursday (when online instruction begins), and has only residence halls, the library, the dining hall and offices remaining open.
We aim to continue to serve our students, even in this challenging environment.
If you have chosen to remain on campus, please continue to follow proper preventive practices, which include regular, and careful, handwashing and practicing prudent social distancing. Also, you must let the Campus Life Office know of your plans by completing this form.
If you should exhibit any symptoms of the virus (fever, dry cough, sore throat, difficulty breathing), contact WeCare at 706-298-4914, option 1, or another heath care provider immediately.
Thank you for your continued patience as we move through this difficult time.
March 15 – Schedule changes announced
The college will suspend all classes beginning Monday, March 16. Classes will resume online on Thursday, March 19.
Students can choose whether to remain on campus or to return home. Residence halls, the dining hall, the library and all offices will remain open. Students should watch their email for instructions on how to notify the Housing Office of their intentions.
All events, including the visit of presidential search candidates and Dr. Obasanjo's visit are canceled.
Whether on campus or at home, please continue to follow wise health practices that prevent virus transmission. 
The situation with COVID-19 is very fluid, and this schedule will be reevaluated on March 30.
Thank you for your patience as we move through these challenging times.
March 14 – Health Director to visit
To help answer the questions of the campus community regarding the COVID-19 virus, the head of District 4 Public Health will visit campus Monday and Tuesday.
Dr. Olugbenga Obasanjo will be in Dickson Assembly Room Monday at 4 p.m. and Tuesday at 11:15 a.m. to provide an informational session on the virus and to answer questions. Dr. Obasanjo is District Health Director for the 12 county area that includes LaGrange and Troup County and has advised the college on its response plan.
Today he confirmed that no cases of the virus have been confirmed in the area.
The college continues to monitor the situation daily and will continue the schedule announced yesterday with the bans on external visitors and college travel as previously announced.
Monday's informational session will be streamed live. A link to the broadcast will be made available on this page Monday afternoon. 


March 13 – External events canceled
In coordination with state and local authorities and close consultation with the head of District 4 Public Health, the campus response team has decided that instruction will continue as normal on campus for the time being. With no confirmed COVID-19 cases in the area, health officials believe that, for now, students are at minimal risk remaining on campus.
To lessen the chance of the coronavirus being brought onto campus—or of exposing faculty and students to it while off campus—restrictions will be instituted for college events and travel. Any activity that requires external guests on campus will be canceled. Likewise, all college-sponsored travel is prohibited. For clarification, contact your appropriate Vice President.
This ban is currently in place until at least March 30, but will be reviewed on a weekly basis.
Following the NCAA's decision to cancel all championship events, USA South Athletic Conference school presidents voted unanimously this afternoon to suspend all athletic competition for the remainder of the season. Coaches of spring sports teams will discuss individual plans with team members.
As we begin the weekend, you are reminded to be cautious about where you go and who you come into contact with. Follow preventive measures, and if you begin to exhibit symptoms, contact health care providers and immediately quarantine yourself—especially if you are over 60 or have an underlying health condition.
While no confirmed cases now exist on campus or in the area, the situation is very fluid; campus leaders are in constant contact with authorities and will review plans daily.
Thank you for your patience and support as we work to both protect the health and safety of our campus community and fulfill our educational mission.
March 12 - Campus update on COVID-19
We can report that as of this time there are no confirmed cases of COVID-19 on campus or in the Troup County community, and there is no cause for great alarm. That does not mean, however, that our level of vigilance nor our preparedness plans should be relaxed.
The college leadership team continues to meet regularly to review procedures and explore options that will allow us to continue our mission should a confirmed case appear on campus or in close proximity to us. It is premature to speculate about when those plans may be enacted.
Know that many measures have already been instituted because of the threat of the virus:
The Dining Hall has moved to strict protocols designed to prevent disease transmission.

Cleaning staff have implemented extra measures in sanitizing common areas, including the application of EPA-approved disinfectants.

A careful review of campus events that involve outside guests has begun (as you were informed in yesterday's communication). If those activities involve an unnecessary risk or participants from "hot spot" areas, they have been canceled or postponed.
You can do your part by observing proper hygiene and hand-washing methods (illustrated in the posters around campus), and by immediately notifying the WeCare Clinic at 706-298-4914, option 1 (or if after hours, an urgent care center) if you experience coronavirus symptoms (fever, cough, shortness of breath).
 Thank you for your patience as we all work through this situation together. We will continue to send updates via email and post them on our website (www.lagrange.edu) as the situation unfolds. As we pursue our mission of challenging minds and inspiring souls, the health and well-being of students, faculty and staff are our highest priority.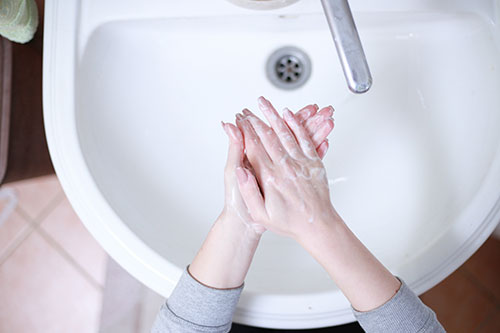 March 4 - College monitoring corona virus outbreak
LaGrange College is actively monitoring the outbreak of the respiratory illness COVID-19 caused by a new coronavirus identified in China.
"Campus officials are meeting regularly to review, and to update as needed, the college's emergency preparedness, pandemic response and business continuity plans," said Dawn Coker, Vice President of Human Resources. "We are also constantly monitoring travel advisories."
Michele Raphoon, Coordinator of Global Engagement, said no students nor faculty members are currently studying abroad. 
"All of our Interim Term travelers returned healthy in January," she said.
There have been no cases of the corona virus reported in the area at this time; however, community members are encouraged to monitor the CDC website and the State Department.
"We continue to stress the importance of observing every-day preventive actions to help contain the spread of respiratory viruses," Coker said. Those measures include:
Wash your hands often with soap and water for at least 20 seconds. If soap and water are not available, use an alcohol-based hand sanitizer.
Avoid touching your eyes, nose, and mouth with unwashed hands.
Avoid close contact with people who are sick.
Stay home when you are sick.
Cover your cough or sneeze with a tissue, then throw the tissue in the trash. If a tissue is not handy, cough into your elbow.
Clean and disinfect frequently touched objects and surfaces.
These everyday habits can help prevent the spread of several viruses.
Coronavirus symptoms can include fever, cough and shortness of breath. If members of the campus community experience flu-like symptoms, they should contact WeCare at 706-298-4914, option 1.  Employees and dependents covered on the LaGrange College health plan may also call Telemedicine at 844-484-7362 or visit an urgent care center.