O-Team offers warm welcome, guiding hand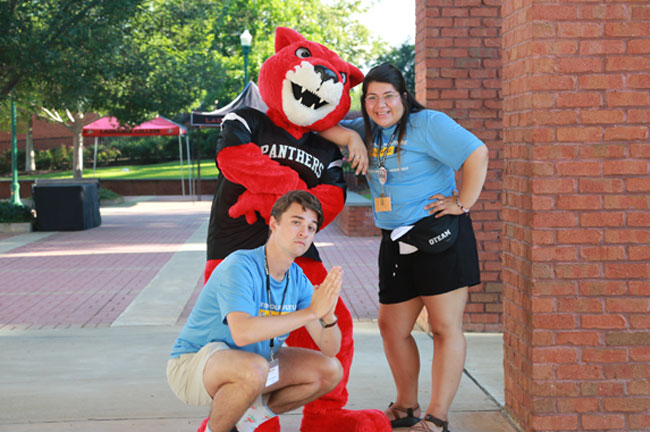 Wearing light blue T-shirts with "O-Team" emblazoned on the back, a group of LaGrange College students offer an enthusiastic welcome to everyone at summer orientation sessions.
Dr. Marc Shook, Vice President of Student Engagement, said the Orientation Team serves a very important function.
"The day before, they provide a lot of general logistical assistance like hanging up posters, moving equipment, setting up rooms, etc.," he said. "During orientation, they answer questions, welcome attendees and help them find where they need to be."
They also serve as emotional support.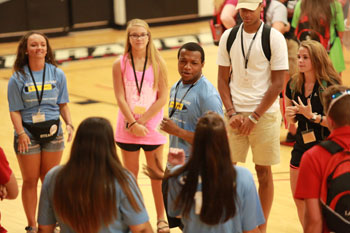 "O-Team members are trained to help identify and respond to students who might be struggling with the adjustment to college," he said. "Likewise, they are constantly looking to help our students meet new people and gain connections that will prove beneficial when they arrive to campus. You cannot underestimate the power that a smiling and welcoming face can have for incoming students."
Students who want to serve on the team go through an extensive application process, said Katie Mosley, Director of Student Involvement and Service.
"They apply with a written application in February," she said. "Then they are invited to a group interview where they are broken into small groups and given three tasks – develop a sales pitch for an everyday item and create a commercial for prospective students about LaGrange College.
The final assignment is to choose an imitation O-Team.
"We give them mock student applications and interviews," Mosley said. "Then working together, they choose their own O-Team."
Finally, Mosley and Kayla Watson, an Area Manager in Resident Education and Housing, join with the Head O-Team staff to evaluate the applications and put together a team.
"The Head O-Team is typically made up of seniors who have shown real leadership skills," she said. "This year, we have three in the Head O-Team and 40 O-Team members."
During orientation, the group is responsible for keeping students on track, making sure they get to their sessions on time. At lunch, they mingle and talk with everyone.
"They make sure no one is ever alone," she said. "The team becomes friends and mentors so the incoming students know they will already have someone on campus they know when they come back in the fall."
The O-Team continues to serve throughout the year, Dr. Shook said.
"The mentors share contact information so they can keep up with students over the summer and when they arrive in the fall," he said. "They work First Week and serve as mentors during the remainder of the year."
Carmen Findley, winner of the 2016 Waights G. Henry Jr. Leadership Award, has seen orientation from several sides – as a new student, a member of the O-Team for three years and now as a Graduate Assistant in Student Engagement.
She said her work with the O-Team has helped her be more empathetic to the incoming students.
"I've been in their shoes and I know what helped me feel at home on the Hill," she said. "It is so rewarding to be able to do that for these new LaGrange College students, and it's exciting to watch them start out on their journey."
It also had a more practical result.
"I was able to develop my leadership skills while having fun and making new friends," she said. "The energy is always high and there is a nice camaraderie among the teams."
Dr. Shook said he hears positive comments from team members after every orientation.
"They tell me working an orientation is one of the most exhausting experiences they have ever had and also one of the most rewarding," he said. "You can see it when we meet to debrief after each orientation; they are barely able to stand up due to being physically drained, yet their faces will light up when talking about a positive interaction they had with a student or family member."
He also hears from the incoming students and their parents in surveys taken after every session.
"They often tell us that it was the enthusiasm and support of the O-Team that helped them know LaGrange College was the right place for them."
In the headlines
Faculty and staff July birthdays
| | |
| --- | --- |
| 1 | John Cook |
| 2 | Carol Yin |
| 5 | Braxton Ford |
| 7 | Janet Craft |
| 9 | Lindsey Lowry |
| 10 | Kim Barber Knoll |
| 14 | Heather Miller |
| 18 | Mariangela Vecchiarini |
| 20 | Joe Strickland |
| 24 | Joseph Miller |
| 27 | Jon Ernstberger |
| 28 | Stacie McClanahan |
| | Jackie Belcher |
| 29 | April Butler |

Golf
Senior Logan Lanier was selected as the Jack Nicklaus Award Division III Player of the Year. In addition, Lanier was the recipient of the USA South Athletic Conference Don Scalf Award, given to the top male and female student-athletes in the conference. Lanier was a first team PING All-American for the second straight year and finished second in the Golfstat Division III player rankings.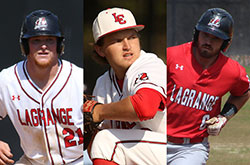 Baseball
Seniors Blake Butcher, Ryan Broaderick, and Casey Bell were named to All-America teams. Butcher and Broaderick were on the ABCA/Rawlings All-America second team, while Bell was a first team D3baseball.com All-America selection. Broaderick was also named the ABCA/Rawlings South All-Region Pitcher of the Year.
LaGrange College had 127 student-athletes earn USA South Academic All-Conference honors. A student-athlete must have earned a 3.0 GPA in each of the two semesters of a given year to be eligible.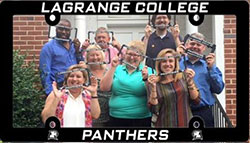 It's not too late! Support incoming LaGrange College students AND receive your free Panthers license plate frame by sending your gift by June 30. Your gifts fund scholarships and great programs like Study Abroad. Text YES or go to lagrange.edu/give today!
Orientation Session III will be July 10-11 and Transfer Orientation Session I will be July 28. We are excited to welcome new students and their families.
Several groups will be on campus next month, including FCA Volleyball Camp (June 26-28), Apogee (July 5-9), Donald Davis Storytelling Workshop (July 9-16), Walton Band Camp (July 14-21), National History Day Teacher Workshop (July 16-20), Cambridge Band Camp (July 24-29), Trinity United Methodists Church (Asheville, North Carolina) Youth (July 25-28) and Holy Spirit Football Camp (July 26-28).
Dr. John Tures, Professor of Political Science, was interviewed June 21 by Allan Loudell about the Georgia special election Congressional race between Karen Handel and Jon Ossoff on WDEL Radio (1150 AM and 101.7 FM).